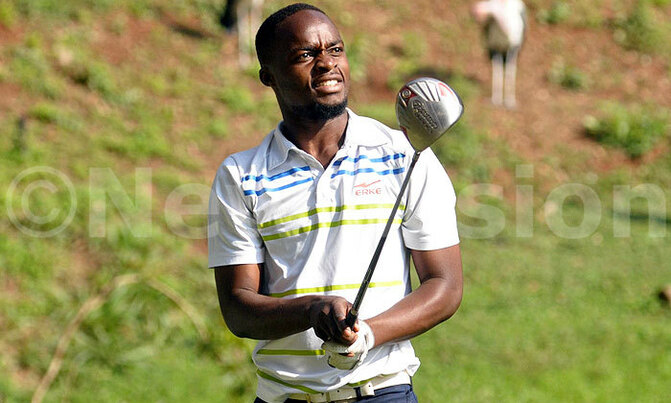 The fight is on for the remaining two places for players who will join Otile and Baguma.
PIC: Captain Becca Mwanja has to go through another qualifier with three others. (Credit: Michael Nsubuga)

After the national junior golf team's fifth place finish at the Africa Junior Golf Championship in Zimbabwe, focus now turns to the national senior side that is looking to winning the Zone V Africa Golf Championships for the second time.

The fight is already on for the remaining two places for players who will join South African-based Ronald Otile and Daniel Baguma for the April 11-14 competition at the Nkana Golf Club in Zambia.

Team Captain Becca Mwanja has to fight for his place on the team with regular national team player Adolf Muhumuza as well as youngsters Dennis Asaba and Joel Basalaine, who are fresh from the Africa Junior Championship in Zimbabwe.

The four will play amongst themselves on a match play format in the remaining week, with the top two joining Otile and Baguma who are automatic choices on the team.

For the first time Uganda finished third in Swaziland last year, a feat they are looking to equal or even better in Zambia.

"We shall hope to wrestle the trophy from South Africa as our boys have overcome stage fright over the years through exposure in these international events," said Uganda Gold Union (UGU) president Johnson Omolo.

"We are happy with the junior team's performance at the All Africa Junior Golf Championship held in Zimbabwe. Uganda's surge into third position on Day Two gave hope of a bright future for Uganda's golf.

"There is need for sustained support towards junior golf development in Uganda. This is a new chapter that the union will steadily pursue nationwide," said Omolo.

The Zone V championship is contested for by golfers from Uganda, Angola, Swaziland, Botswana, Kenya, Lesotho, Malawi, Namibia, Mauritius, Mozambique, South Africa, Zambia and Zimbabwe.