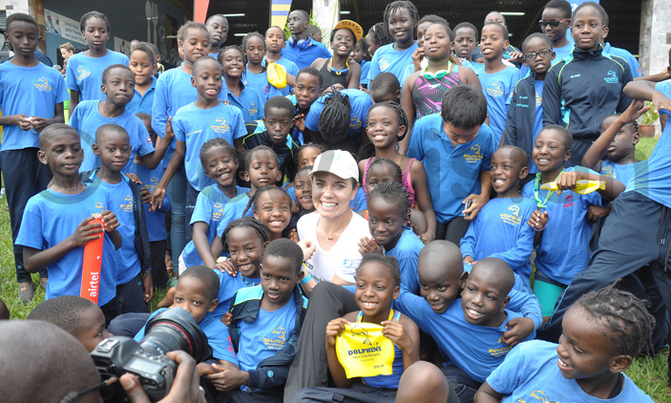 The two day event attracted 289 athletes from 11 teams
Dolphins Junior Championships
Natalie Coughlin's cameo turned out to be the surprise package of the Dolphins Junior Championships that ended Sunday at GEMS Cambridge International School.
The highly decorated American international swimmer appeared in the dying moments of the championships where Dolphins and Seals shared the spoils.
Natalie engaged the excited swimmers in a professional talk courtesy of World Food Program and GEMS International School.
The 34-year-old twelve time Olympic medalist encouraged the juniors to keep the faith and determination in their swimming careers, citing her challenges.
"There times when you will struggle along the way, but the best option is to take the challenges head on. Never to give up" she said.
8-year-old Jordan Ssamula led the way for Dolphins in the boys' category taking home 4 golds in the 25m breaststroke clocking 22.48, 25m backstroke clocking 20.64, 25m freestyle (16.37) and in the 100m Individual Medley clocking 1.38.43.
His teammates Ethan Ssengooba and Daniel Nuwagaba made 29 and 28 points respectively in individual rankings.
Jason Malan and John Kafumbe of Silverfin and Seals respectively were very impressive despite the hosts beating them to the top position. The former got 37 points while Kafumbe had 33 points.
"I had faith in my swimmers and I'm happy they didn't disappoint. We shall reflect on this achievement and see which areas we could improve" said Tonnie Kasujja, one of the Dolphins coaches.
"The event has overtaken our expectations. It has really been a fun filled two days. We are looking forward to another similar event next year" said Dolphins chairman Sam Ntulume.
Kirabo Namutebi fuelled Seals' victory in the girls category amassing 266 points.
The 12 year old registered an impressive 4 golds in the 50m breaststroke (36.43), 50m backstroke (35.25), 200m IM (2:48.36) and 50m freestyle (29.06).
Silverfin's Heather White stood out in the Girls 9-10 category, earning a total of 45 points, above second place Hannah Kyanda on 30 points.
The event is set to become annual following its success story with the two day event attracting 289 athletes from 11 teams.
Boys
Dolphins 392 pts
Silverfin Academy 223
Seals 142
Girls
Seals 266
Dolphins 242
Silverfin Academy 209