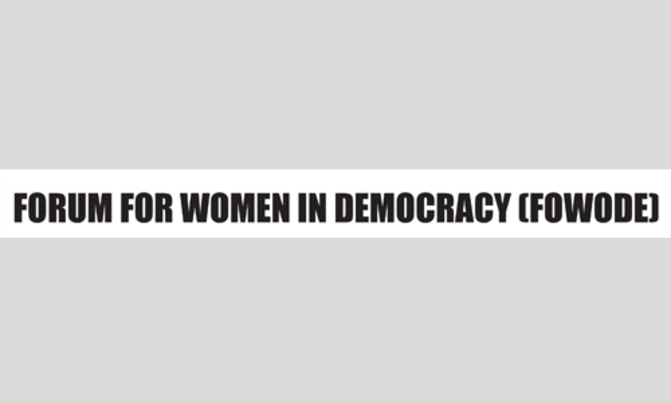 Applications should be sent by close of business on Thursday 13th April 2017.
Forum for Women in Democracy (FOWODE) is a national women's rights nongovernmental organization based in Kampala. FOWODE wishes to fill the post below in the organization and is seeking applications.
PROGRAM DIRECTOR, WOMEN AND LEADERSHIP PROGRAM
Job purpose: The Program Director is of high impact as she heads one of FOWODE's core programs. She is mandated to think strategically and innovatively for the program and ensure that the program remains highly visible and current at the national and local level. In addition, the role requires the Director to be able to fundraise and build partnerships for the program.
Roles and Responsibilities
Provide strategic direction to the program
Identify fundraising opportunities for the program and together with the team raise funds for the program
Participate in monitoring and evaluation of the programme activities and take appropriate steps to ensure that the programme achieves satisfactory results.
Identify innovations to propel the program and ensure that it remains current and relevant
Develop and maintain strategic partnerships for the program in particular and the organization in general
Ensure the timely development and submission of program narrative reports
Supervise the program officers working in the program
Experience, Skills & Competencies
• At least 3 years working experience in a Nongovernmental organization
• At least 2 years experience in program management
• Strategic planning and management
• Policy analysis, research and advocacy skills and experience
• Experience in fundraising
• Clear thinking with conceptual and analytical skills
• Computer literacy with working knowledge of Microsoft word, excel, power point
• Good knowledge and appreciation of women's rights and gender
Educational requirements
A Bachelors degree and /or Master's degree in Social Sciences, Law or Development Studies from a recognized University A Diploma or Certificate in program planning and management will be an added advantage Interested individuals should send their applications including their curriculum vitae and copies of academic documents to:
The Executive Director
Forum for Women in Democracy (FOWODE)
P.O. Box 7176
Kampala
Or email to patricia.munabi@fowode.org and copy in rebecca.kato@fowode.org
Applications should be sent by close of business on Thursday 13th April 2017.