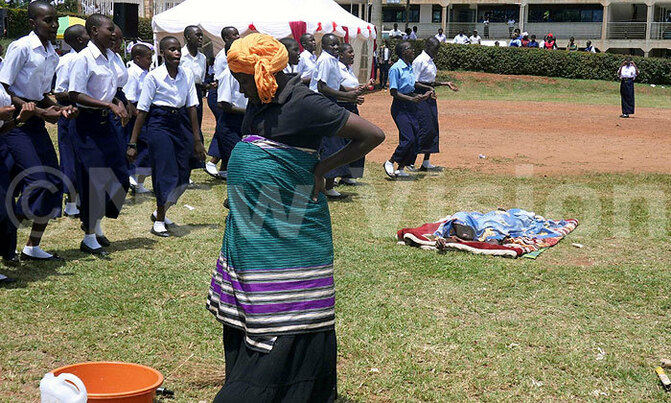 "We are going to begin cracking the whip on defaulting schools, including closing them until they have complied."
PIC: Students of Musaazi House do a skit on the tribulations
of a single mother during a music, dance and drama (MDD) competition at St. Mary's College, Lugazi on Saturday (Credit: Mike Musisi-Musoke)

BUIKWE - Schools leaving extra-curricular activities out of their programme will be punished, an official from the education ministry has warned.

The ministry will start inspecting schools to specifically look for schools not adhering to the official curriculum.

Alfred Kyaka, the assistant commissioner in-charge of secondary education in the ministry of education, sports, science and technology, said extra-curricular activities like games and sports "are part of government policy".

He did not cite names but said it is a breach of the Education Act and punishable by law for schools deliberately excluding such activities from their curricula.

Kyaka, who was officiating at a music, dance and drama event at St. Mary's College, Lugazi, said neglecting games and sports in schools is giving "an incomplete package" to learners.

"In this light, we are going to begin cracking the whip on defaulting schools, including closing them until they have complied," he warned.

Meanwhile, the ministry official also touched on the recent directive by First Lady and education and sports minister Janet Museveni banning transportation to school of children of tender age on boda boda motorcycles unaccompanied by superiors.

He said the directive is justified and that it would be followed up to the dot.

Kyaka said any loving parent would be expected to sit with his or her child on the motorcycle, walk with them or find alternative safer means of delivering them to school.

"I personally used to walk five kilometres to school. Parents with vehicles were rare and boda boda are a new invention, why don't parents walk with their children to school?"
Secondary education commissioner Alfred Kyaka (right) handing a certificate to Shisoso Samuel, the house master of overall competition winners Nyerere House. (Credit: Mike Musisi-Musoke)

He also blamed school administrators for requiring learners to arrive at school at 6.00am local time, earlier than the stipulated 8.00am. Kyaka argued that that's one reason parents opt to hire boda bodas which are risky and many times manned by inexperienced riders.

Such schools also risk being punished, he added.

There has been public debate surrounding the education ministry's decision to close schools not meeting required standards. Some have said the move is selective, targeting private schools.

In light of such reactions over recent weeks, Kyaka said they are not victimizing private establishments but instead closing any school not meeting minimum requirements.

"If you are licensed and show that you are taking steps to put in place the basic requirements, we cannot close you, but instead direct you on how to become fully acceptable," he said.

The chairperson of Wakiso District Headteachers Association Cotilda Nakate Kikomeko said games and sports were deliberately incorporated into the mainstream teaching curriculum with a view to help children develop their talents as well as their physique.

She said music, dance and drama is the channel through which other talents in a child are identified and stimulated and that neglecting them is actually giving learners an incomplete dose.

"Treating extra-curricular activities as a by-the-way by some schools is eliminating part of the syllabus and is unacceptable."

During the school competition at St. Mary's College, Lugazi, Nyerere House emerged overall winner, followed by Nkrumah while Musaazi and Mandela came third and fourth respectively.