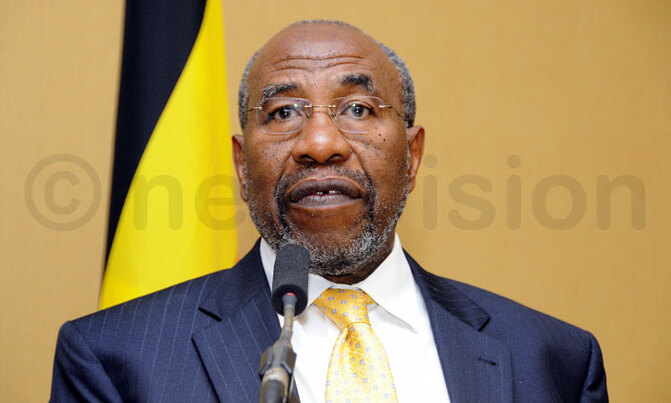 He said that lawyers need to re-align themselves with the new technological trends both local and international to help determine whether their contributions are relevant to society
Prime Minister, Dr. Ruhakana Rugunda. Photo/File

The Prime Minister, Dr. Ruhakana Rugunda has asked lawyers to work together with government to come up with laws and policies regulating social media use in the country.

"Constantly evolving technology presents both opportunities and challenges. Today we have digital platforms that continue to transform the way we conduct business. This has been expounded upon by social media but which for a time being are not subject to any regulatory frameworks that govern our traditional or mainstream service providers," he said.

Rugunda said that though it's incumbent upon the government to find the necessary balance between tapping the potential in these new technologies and the protection of society from harmful individuals and influences, lawyers too need to come in to offer their professional legal advice on how to regulate them.

"This is where members of the legal profession with the requisite expertise could work with government. The question therefore is how you position yourselves to be part of and benefit from the process of making laws to regulate the delivery and monitoring of these technological developments," he said.

The Prime Minister, who was supposed to open the 1st annual law conference, delegated the Attorney General, William Byaruhanga to deliver his message to the lawyers. The conference was held under the theme 'the future of the legal profession: unpacking opportunities and challenges.

He said that lawyers need to re-align themselves with the new technological trends both local and international to help determine whether their contributions are relevant to society.

Byaruhanga implored them to be innovative in this era of technological growth in order to remain relevant and competitive in their trade.

"Come up with new ideas that can better serve the interests of your clients. In this constantly changing world, technology is obviously evolving to allow us more efficiency while in some cases renders us irrelevant," Byaruhanga said.

Godfrey Mutabazi, the Executive Director, Uganda Communications Commission (UCC) said that the legal fraternity needs to guide the country on duly protecting its people, explaining that there are several networks and platforms that are manned in the Western countries which in many ways leaves Ugandans exposed and vulnerable.

He said that though these new platforms give a great freedom of communication, they are not in the hands of Africans.

"We need a future network that unites us as Africans, manned in Africa, so that we are also able to protect our own people," he said, adding that, "we cannot implement and promote new technologies without regulation, otherwise we leave ourselves unnecessarily vulnerable and without necessary restraint."

Mutabazi urged the lawyers to find ways on how taxes can be imposed on businesses that are run on social media sites such as Facebook and how such businesses can be regulated.

"You as stewards of the law, should offer guidance on such matters and help us to work towards mutually beneficial operations when it comes to communication networks," he said.

Francis Gimara, in his opening remarks advised the lawyers to take advantage of the two day conference to come up with innovative ideas that will help them stay relevant in the profession.

"For a long time as a profession, we have responded more to what is available than actually innovating for our clients. We forget that innovation is not a job of the clients. Clients are good at telling you what they like but rarely do they give you a brand new product idea," he said.

The two day conference which ended on Friday took place at Imperial Beach Resort Hotel in Munyonyo.