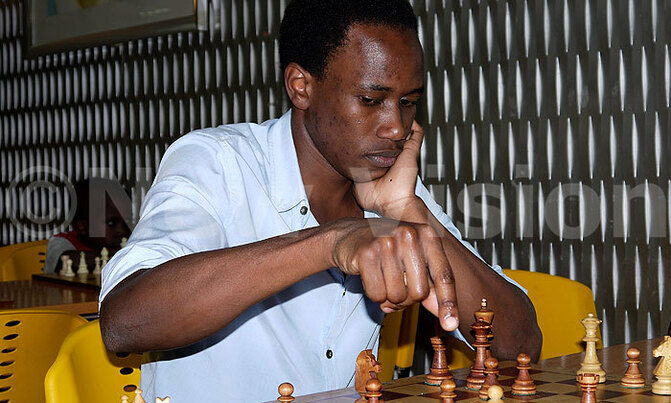 Patrick Kawuma will come face to face with Kenya's top seed player Peter Gilruth.
Ugandan FIDE Master Patrick Kawuma pictured here in some past action. (Credit: David Namunyala)

2017 ZONE 4.2 AFRICAN INDIVIDUAL CHESS CHAMPIONSHIPS

Venue: Jimma, Ethiopia

RESULTS

Open Category

FM Patrick Kawuma

FM Haruna Nsubuga

Joshua Katumba

Women

WFM Ivy Claire Amoko

Shakira Ampaire

Esther Penninah Nannozi

JIMMA - FIDE Master (FM) Patrick Kawuma, who is representing Uganda in the Ethiopian city of Jimma, wouldn't have asked for a better start at the ongoing Zone 4.2 African Individual Chess Championships.

After a flawless start at the 2017 championships, in his fourth round, Kawuma was pitted against tournament favorite Egyptian International Master (IM) Ameir Moheb.

The duo faced off on board one, with both boasting of a perfect start and the match ended in a draw.

Kawuma lost to Moheb last year in the African Individuals held in the Ugandan capital Kampala. But he made sure that doesn't happen again when he forced a tie after a tiring game.

Now ranked third with 3.5 points in the championships, Kawuma will come face to face with Kenya's top seed player Peter Gilruth on board two as the duo look forward to topping the table in the open category.

FM Haruna Nsubuga also registered victories from Djibouti's Ahmed Abdi Houssein and Ethiopia's Yirga Nigussie Mitiku in his first two games before falling to a third round defeat to Moheb.

The second-best Ugandan managed to beat Kenyan Sang Ricky in game four to move to seventh position with three points.

Nsubuga will play Ethiopia's Candidate Master (CM) Fekadu Desalegn in game five of the zonals.

Joshua Katumba will have a date with Ethiopia's Tegbar Zerihun on board 10.

In the women's category, Woman Fide Master (WFM) Ivy Clare Amoko will try to revive her hopes of winning the event when she faces Ethiopia's Abate Lidet on board five.

WFM Amoko had a good opening, thumping Ethiopia's Beyene Teklu Masho and Kenya's WFM Deshpande Sanjana Satish in the second and third rounds respectively.

She drew with fellow Ugandan Shakira Ampaire in round one but lost to Egypt's Woman International Master (WIM) Wafa Shahenda in game four.

Shakira Ampaire takes on Ethiopia's Ruth Leykun while Esther Peninnah Nannozi will play Ethiopia's Tsigereda Derso on board seven.