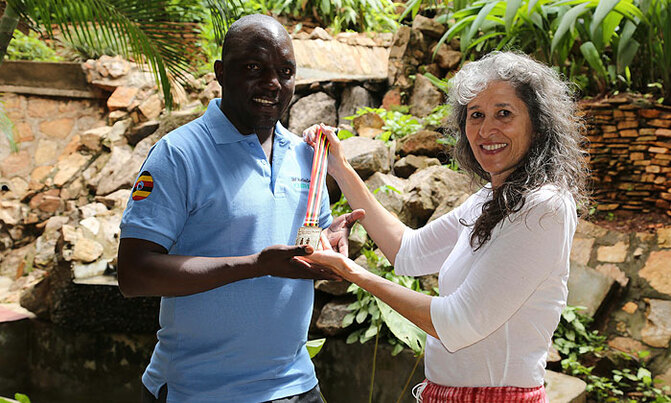 Norman Katende, who was in charge of media, was among those awarded.
PIC: IAAF delegate Anna Legnani (right) hands over the IAAF medal to director Media and Communications of the 2017 IAAF Cross Country Championships Norman Katende after the event in Kampala. (Credit: Jean Pierre Durant)

KAMPALA - The International athletics federation has awarded four members of the Local Organising Committee for their efforts in ensuring the 2017 IAAF World Cross Country Championships was a success.

Director for Competition Faustino Kiwa, Secretary to the LOC Beatrice Ayikoru, Director of Media and Communication Norman Katende and officer in charge of accommodation Apollo Musherure were awarded different medals by the different IAAF delegates for their role in putting together the event.

Uganda became the fourth African nation to host the athletics event, which took place at Kololo Independence Ground last Sunday.

Morocco, South Africa and Kenya have been the other hosts, with Morocco doing so twice.

In the latest edition - the 42nd - rivals Kenya and Ethiopia were at it again, with the two eastern African nations proving once again their dominance in long-distance running.

Hosts Uganda finished third overall, beating 55 other participating nations on the medals table. Only Kenya and Ethiopia did better.

The latest edition of the athletics event, returning to the continent after a decade, received positive reviews from various circles and foreign media.

The Kololo course was hailed as being one of the best in the last two decades on top of the hospitality of Ugandans underlined by their willingness to help visitors who had flown in from all over the world for the event.

Meanwhile, while Kenya and Ethiopia lived up to their billing, Uganda had something to smile about. The east African nation got a first ever World Cross Country gold medal through youngster Jacob Kiplimo.

The 16-year-old clinched gold in the U20 men's race in front of a huge home crowd including President Yoweri Museveni and his wife Janet, who is the education and sports minister.

Ayikoru's medal was handed over during the cross country committee meeting at Sheraton Kampala Hotel on Monday while Katende's medal was handed over by IAAF Media Delegate Anna Legnani at Metropole Hotel the same day.

As many as 59 nations participated.