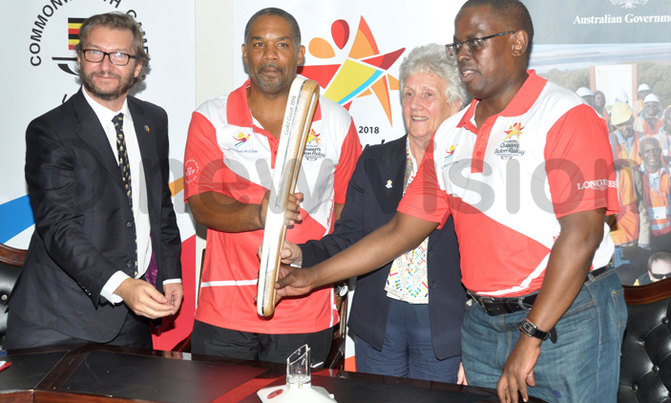 Uganda is the fourth country the baton has made a stop
The Queen's Baton Relay arrived in the country on Saturday.
Uganda Olympic Committee president William Blick and other members of the committee, Donald Rukare and Moses Mwase received the baton from the President of the Commonwealth Federation Louise Martin and the Australian Acting High Commissioner Jeremy Green.
The baton carries a powerful message from the Queen to all the Commonwealth countries.
The Relay began on March 13, 2017, when The Queen placed her message to the Commonwealth inside the baton.
It then began a 388 day and 230,000 kilometre journey from Buckingham Palace in London to the Opening Ceremony of the Games, where the message will be removed from the baton and read aloud by Her Majesty or a representative.
The Baton Relay has been the traditional curtain-raiser to every Commonwealth Games since the Cardiff 1958 British Empire and Commonwealth Games, but the 2018 edition will be the longest and the "most accessible" in Commonwealth history.
Uganda is the fourth country the baton has made a stop before it continues to other destinations.