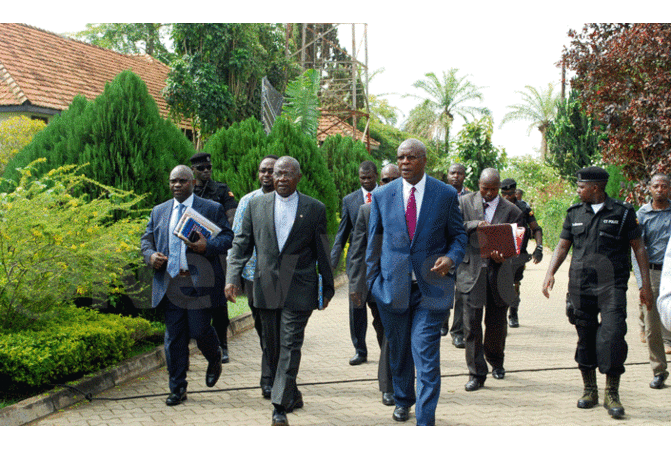 "In the Judiciary, we have been able to reduce pending cases by 20%, and achieved a clearance rate for cases to 125%," Katureebe.
Judiciary has embarked on a series of reforms to improve access to justice and better respect for human rights and integrity of the individual. This will reduce on the case backlog through the plea bargain and roll out of the Alternative Dispute Resolution (ADR),
"In the judiciary, we have been able to reduce pending cases by 20%, and achieved a clearance rate for cases to 125%. Through plea bargaining, court disposed of 2,016 cases in 2016.The success rate for ADR stands at 55%. In terms of overall court performance, we were able to dispose of 121,820 cases and were left with 131,803 cases by end of 2016," Chief Justice Bart Katurebe said.
He was addressing students and dignitaries during the inter-university human rights competition organised by Foundation for Human Rights Initiative (FHRI) at Uganda Martyrs University Nkozi last week Mpigi.
Katureebe said the judiciary is still confronted with a high congestion in prisons, which increased from 192 % to 269% by the end of 2016.
Katureebe's comments follow the prevalent outcry over rampant corruption among judges and magistrates and his anti-corruption crackdown to restore public confidence in the Judiciary.
He stressed that once a prima facie (credible) case has been established against a judicial officer should he should be forwarded to the Judicial Service Commission (JSC) for disciplinary action will be shared with the public.
"If I violate the law, I am violating somebody's breathing. The law demands that we all go through the due process. Any magistrate or judge who takes a bribe should be exposed and not covered up," Katureebe said.
These rights must pre-suppose that there is a function where people can take their disputes and attended to amicable. When people don't get their disputes resolved, then they will resort to the rule of the jungle, he said
"There is an erosion of our judicial system where some judges and magistrates decide to make judgments based on what they were given. This is unacceptable," he said
The Executive Director Huma Right Initiative (FHRI), Livingstone Ssewanyana, said the inter-university competitions will sow the seeds of respect for human rights and freedom among students and our leaders.
"We strongly believe nurturing democratic and human rights culture in this country. We also believe that providing an accountable leadership should be a norm," he said.
Vice Chancellor Uganda Martyrs' University Chrysostom Maviri said the university fully respects human rights and that it is the reason it emphasizes ethics and integrity.