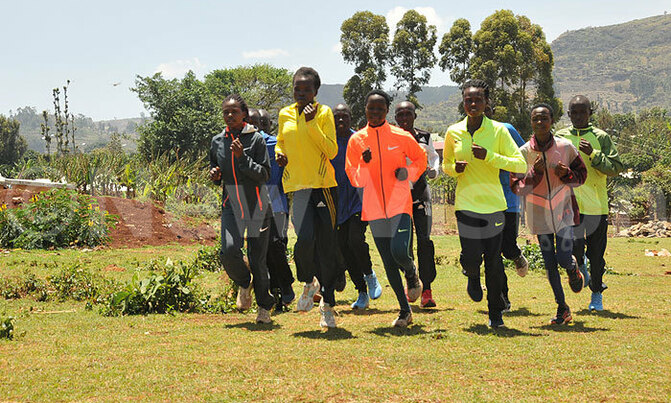 Mornings can however be very cold, meaning that at times warm up takes a while.
(Photo credit: Norman Katende)

EVENT: 2017 IAAF World Cross Country Championship

HOST: Kampala, UGANDA

VENUE: Kololo Independence Grounds

DATE: This Sunday (March 26)


Prayer is a key component of Uganda's preparations for the World Cross Country. Every day and training session starts and ends with a prayer.

"True, the athletes have to train hard but spiritual support is also key," explained athletes' representative Simon Ayeko.

Last Sunday the team prayed at Christ Alive Glorious Church in Kapchorwa where the entire day's prayers were dedicated to asking God to bless Uganda with medals.

Ayeko, coach Grace Chesang and the team's administrator Peter Chelangat always play the lead role in the prayers.

Training at dawn

Like soldiers, the athletes are conditioned to wake up at 5am. They then have to swiftly prepare. At 6am they start walking to the nearby Boma ground for the day's first training session. Training that involves easy runs and stretches takes an hour.

Mornings can however be very cold, meaning that at times warm up takes a while.

Breakfast

The team then returns to its base close to one of Kapchorwa's biggest hotels - Noah's Ark.

Next is a quick shower then breakfast of milk, bread, sweet bananas, eggs and water. The meals are prepared by two cooks under coach Chesang's supervision.

Rest at 9am

The team then rests. Those with clothes that need washing also make use of this time. Coach Benjamin Longiros insists that rest is crucial.

"That is the best way to help athletes recover, " he explains. Any sportsman who does have enough rest is doomed, insists Longiros.

No piling plates

Lunch follows at 12:30pm. Unlike some sports disciplines where sportsmen heap plates with food, it is a different story in athletics. "We eat light," says Stephen Kiprotich.

He insists that what matters is quality not quantity. Green vegetables, rice, beans, beef, chicken, fruits and lots of water and juice dominate athletes' menu.

Rest then training

Food is followed by more rest before the next training session at 5pm. This one is particularly in the last days to competition.

It earlier comprised of some hard runs as the team built speed and endurance. Every training session ends with a warm down usually led by senior members of the team like Kiprotich, Joshua Cheptegei or Timothy Toroitich.

Relaxed evenings

Evenings are largely about relaxing, evening tea, television, radio and talking to relatives as far away as Arua before supper and sleep.

"We have to make sure that they sleep early," stresses Longiros.

Part of the evenings are in the final week being dedicated to team tactics. "It is also time for open discussion. If anyone has issues it is the time to bring them out," says Longiros.

No sleeping together

Men are strictly separated from the women. The ladies are closely watched by disciplinarian coach Chesang.

"We want to avoid a repeat of reports of some sections of the team taking advantage of the other," explains an official. Variations Just like the coaches vary training programmes. Venues also vary.

Most of the speed work is done at Sebei College Tegeres ground six kilometres from Kapchorwa town. Many of the speed and endurance sessions have been at Teryet at the proposed site for the high altitude training center.

For transport to these venues taxis are hired. Boda bodas have also come in handy just like private cars belonging to people like Kiprotich and Cheptegei.

Physio saviour

A team without a physio is doomed. Some big teams like Australia and USA dedicate entire teams to this function. Physios are key.

They take care of all forms of injuries that occur on an almost daily basis. Ugandan teams have been known to travel without them and ended up depending on opponents' physios!

Italian specialist

Team Uganda in Kapchorwa is lucky to have an Italian specialist Sonia Scoca. She is volunteering to treat the athletes and athletes say she has done a wonderful job in camp.