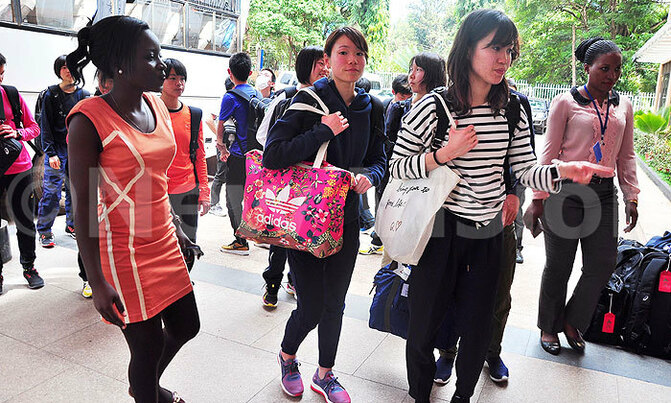 Japan, Sri Lanka and Lebanon are here.
PIC: The Japanese team appeared jolly as they soaked in the Entebbe sunshine upon arrival. (Credit: Moses Asonya)
EVENT: 2017 IAAF World Cross Country Championship

HOST: Kampala, UGANDA

VENUE: Kololo Independence Grounds

WHEN: This Sunday (March 26)


ENTEBBE - More countries are flying into the country for the World Cross Country Championship due this Sunday in Kampala.

Team Japan and Sri Lanka jetted in on Wednesday, two days after the arrival of the Australian team and Fiji's sole representative.
Team Japan moments after touching down at Entebbe. (Credit: Moses Asonya)
The Sri Lankan three-strong team. (Credit: Moses Asonya)

The biggest group of Team USA flew in on Tuesday. More teams are expected to fly in for the global event.

With four days to the Kampala IAAF World Cross Country Championships at Kololo, the build-up is in full flow.

The 29-member US team touched down late last night and got a feel of Kampala City in the morning before going out to the race course in the afternoon. They were in visibly calm spirits as they made their way from Imperial Royale Hotel to Kololo.

The Japanese were all smiles in their introductory photo ops and there will be some back home expecting good returns from their 31-strong party.
The Japanese team arrive at their hotel in Kampala

Two athletes from Lebanon arrived at 12.15pm, with one due at 10.55pm while Sri Lanka's three athletes touched down at 2.10pm.

Sixty countries and 553 athletes are expected in Uganda for Sunday's event.

Uganda is hosting the event for the first time ever.


TEAM ARRIVAL SCHEDULE: