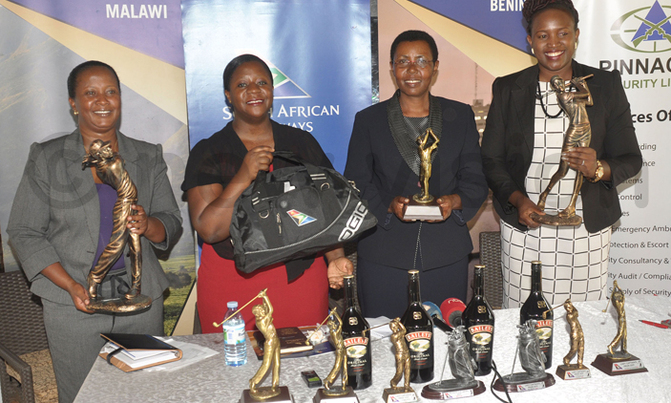 The medal format of play tournament will have the top players win prizes on top of other side bets
Over 200 golfers take to the course on Saturday to commemorate Lady Captain Mary Ochieng's first year in office as she also warms up to serve another year after being returned unopposed.
South African Airways Sales Executive Stella Kasibante today unveiled an assortment of prizes to be won by the different categories of golfer; saying the tournament offers them an opportunity to interact with their customers.
"We pride in our golfing destinations in South Africa, Namibia, Mauritius and Zimbabwe so we encourage golfers to explore these as they enjoy the game," Kasibante said.
Lady captain Mary Ochieng flanked by her vice Anne Abeja and PRO Njeri Kinyoho was grateful for the offers from the different sponsors and promised a great event.
"Everyone is looking towards the competition with excitement because it is one of the most prestigious ladies events," Ochieng said.
"We expect a big turn up as golfers from most upcountry clubs have confirmed participation; the course is in immaculate state thanks to the green keeper," Ocheing stated.
The medal format of play tournament will have the top players in the ladies Groups A-C and the subsidiary men's Groups A-C win prizes on top of other side bets.
Junior golfers and upcoming lady golfers (caddies) will also have special prizes to take home from the one-day event.
The event is co-sponsored by UBL (Baileys), Stanbic Bank, Steel and Tube Industries, Century Bottling, Case Medical Care, Marsh Uganda, Multiple Industries, Positive Emotions Fitness and Spa, Civil Aviation Authority, Pinnacle Security.
Meanwhile Ochieng will serve another year as captain with a new team that includes Anne Abeja (Assistant Captain), Rosette Tugume (secretary), Njeri Kinyoho (PRO), Connie Mukuru (locker room member) and Juliet Ndolvu (Treasurer). Lady trustee Monica Ntege is the patron of the ULGU.
The ULGU has over the past one year organised tournaments like the 'Gadies and Gentlemen', Flags tournament, Cross Country, and the 'Friday night' tournaments.