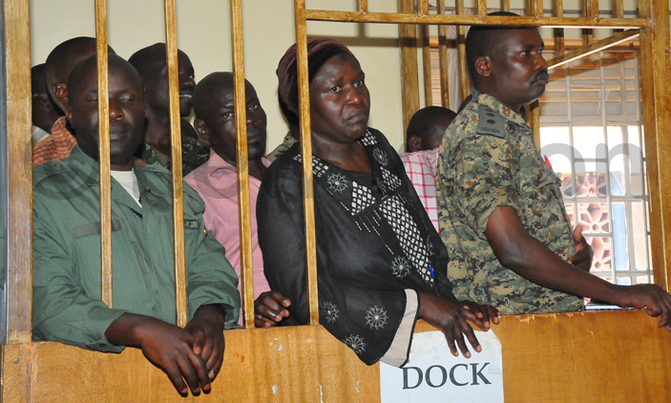 The officer was giving his defence in a trial within a trial, where he is charged with treason alongside 13 others
Dramatic scenes played out at the General Court Martial in Makindye when a senior UPDF officer wept in the dock as he narrated how he was tortured following his arrest last year.
Capt. Bosco Alepere, accused of attacking Kabamba Army Barracks in Mubende district with intentions of overthrowing government, wiped his eyes as he denied recordings of himself being interviewed by Police detective, AIP Felix Tulihamwe.
Last year, Tulihamwe submitted a recording in court in which Alepere confessed that he had some information about the Kabamba attack.
Clad in military attire, Tulihamwe, who looked pensive told court that he was tortured until he confessed to committing the crime.
"When I was arrested by Lt. Col. Tingira from an army school in Karama, I passed through all kinds of inhumane treatment like having both my hands and legs tied, stepping my head as I was being slapped and boxed," he narrated.
"My private parts were pierced using a sharp object. These are moments that I will never forget in my life," he said before break down in tears, forcing court to adjourn.
Alepere was giving his defence in a trial where he is charged with treason alongside 13 others. He was being guided by lawyer Fredrick Semwanga.
Others are Lt. Col. Phillip Frank Eguma, 42, Lt. Ronald Waibi Mwavu, 36, Pte Kenneth Ssekajja, 32, Lt. Ronald Mwavu, Sgt. Nduga Musaazi, Marvin Ssemwogerere, John Lumala Salongo, Patrick Kibuuka, Solomon Matovu, Peter Kibirige, Francis Kiwanuka, Nasim Namuzimuule and Herbert Biyimbwa, 54.
The suspects include five UPDF soldiers and nine civilians including one woman.
Prosecution alleges that the suspects in September 2013 and May 2014 in various districts in Uganda and Nairobi in Kenya omitted to disclose vital information to army authorities about the recruitment of people to engage into activities to prejudice the security of UPDF and preparations to attack Armoured Warfare Training School (AWTS) in Mubende district.
Prosecution further alleges that during the same period the suspects aided Eguma, Mwavu to prejudice the security of the defence by preparing AWTS in Mubende district.
Court Martial chairman Lt Gen Andrew Gutti adjourned the hearing of the case to next week.