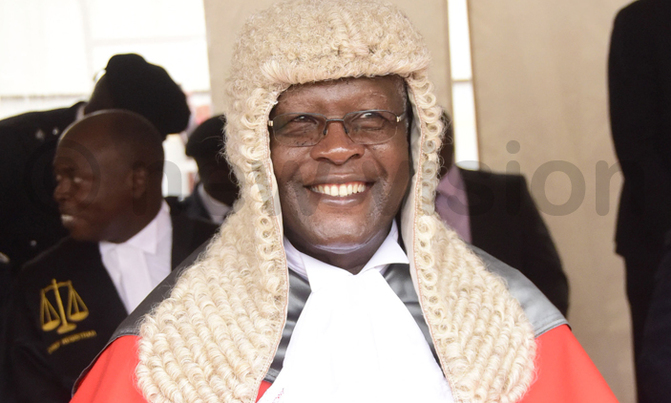 Despite its achievement, Judiciary is still singled out as a corrupt institution
Activists have proposed that more powers be given to the Chief Justice, Bart Katureebe, to enable him, punish errant judicial officers.
The proposal was made during the national dialogue on strengthening governance and accountability in the Judiciary.
The proposal followed a concern raised by Karamoja Anti-Corruption Coalition programme coordinator Ayub Mukisa about the conduct of the Deputy Chief Justice, Steven Kavuma, regarding the interim orders he has been issuing.
According to Mukisa, they recently asked Katureebe why he does not suspend Kavuma over abuse of court processes and he told them that he didn't have powers to do so.
Kavuma recently issued an order stopping Parliament from debating the sh6b oil bonus to URA staff and government employees, which sparked public debate. The order prompted the Speaker of Parliament, Rebecca Kadaga, to adjourn the House sine die (without giving a date for resumption), until it was vacated on January 10, 2017.
"The Chief Justice should be given powers to discipline judicial officers. This is the only way the conduct of judges particularly on abuse of court process can be addressed adequately," Innocent Ejolu of United Nations Development Programme (UNDP) proposed.
According to Islamic Women's Initiative for Justice and Peace Executive director Asha Mwanga Mastulla, a number of judicial officers have been implicated in corruption practices such as bribery and extortion, but little has been done in handling cases brought against them by the Judicial Service Commission (JSC).
According to the commission's annual report 2014/15, a total of 137 cases were reported against judicial officers but in the previous year (2013/14) it had a backlog of 749 cases bringing the number to 886 out of which only 106 were cleared.
The Judiciary derives its mandate from Article 126 (1) (2) of the Constitution of Uganda. It is the main institution mandated in delivering justice to the people of Uganda through making 130 judicial appointments, plea bargaining and alternative dispute resolution (ADR), an initiative which has helped courts clear more than 3000 cases in the last two years.
Despite its achievement, Judiciary is still singled out as a corrupt institution, according to the East African Bribery Index, 2015. The Inspectorate of Government (IGG) data tracking mechanism (2014) shows that 71% of the respondents paid a bribe to access judicial services.
According to Anti-Corruption Coalition Uganda (ACCU) executive director, Cissy Kagaba, their research findings at the JSC revealed that corruption cases were the most reported at the rate of 2.7 percent after misconduct at 59.3 percent.
She said the current structure of the JSC as provided for by the Constitution is self-limiting, with a bi-monthly sitting viz a vis daily reporting of complaints by the public, which leads to case backlog.
Kagaba recommended that the commission should lobby the relevant stakeholders to consider changing its status to full time and also engage with the Ministry of Finance for a budget increase to deliver its mandate.
"Development partners, actors in Justice, Law and Order Sector (JLOS) and Parliament should reinvigorate efforts towards attaining self-accounting status for JSC to enable it assume and execute its mandate," she said.