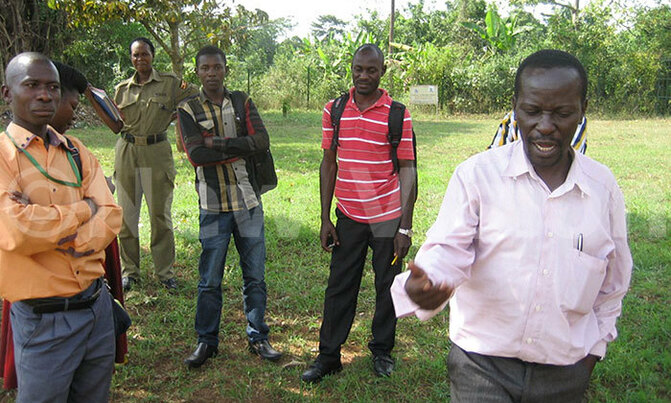 Kayunga woman has been sentenced to one year behind bars jailed for one year over assaulting a journalist
PIC: The victim (orange shirt), together with fellow journalists, outside court. (Credit: Charles Jjuuko)

Court in Kayunga district has sentenced a woman to a one-year jail term for assaulting a journalist.

Rose Naluwa, a businesswoman and resident of Kyampisi in Kayunga sub-county, was convicted by Grade One Magistrate, Irene Akello.

Prosecution led by Betty Nansubuga told court that Naluwa committed the offence on June 4, 2015. She was found guilty of beating up Sula Mukiibi.

The victim had gone to cover a land wrangle in Kyampisi village.

Mukiibi is a freelance journalist with local radio station Sauti FM and ABS TV. He was on his way home at about 6.30pm when he found people gathered by the roadside at Kyampisi.

He reportedly decided to inquire from four women who were seated across the road to ascertain what was happening but instead Naluwa and other women pounced on him and started beating him up, accusing him of being a spy.

He sustained injuries on the back and neck.

The journalist reported the matter to Bukoloto Police Station which led to the arrest of Naluwa on February 25, 2016.

Her conviction was welcomed by activists.

"We are pleased by the decision taken by the Magistrate to convict and sentence the journalist's attacker," said Robert Ssempala, the national coordinator of Human Rights Network for Jounalists-Uganda.

The offence carries a maximum sentence of five years in jail.