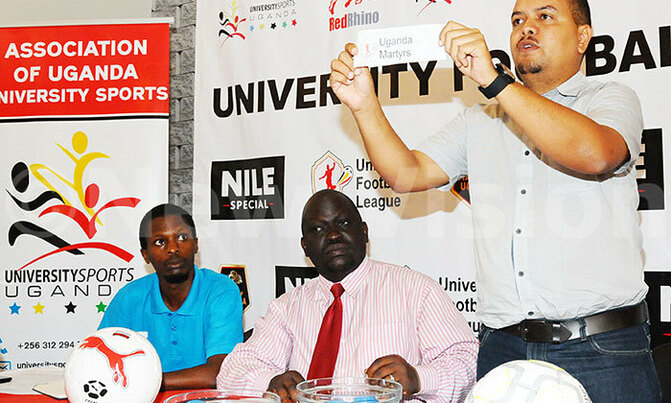 This year's competition rolls off with home and away clashes on Wednesday next week.
PIC: On Wednesday, Nile Breweries head of Marketing Sam Hooper (right), University football league organising committee chairman Vincent Kisenyi (centre) and Red Rhino's Samuel Akwech conducted the draws ahead of the new season of the University Football League. (Credit: Mpalanyi Ssentongo)

KAMPALA - Five more universities have joined the University Football League (UFL) this year.

Upcountry universities Bishop Stuart, Kumi and Bugema and Kampala-based St Lawrence and YMCA Comprehensive Institute are all in for the sixth edition this year.

The new entrants bring the number of participating teams to 16 teams drawn in four groups of four each.
Here, Hooper and AUUS president Peninah Kabenge during the launch of the new season. (Credit: Mpalanyi Ssentongo)

This year's competition, whose fixture will be unveiled later this week, rolls off with home and away clashes on Wednesday next week.

While holding draws for the 2017 competition in Kampala, Association of Uganda University Sports's Penninah Kabenge said their dream to see university teams from all over the country join the league is progressive.

"For the last six years, UFL has demonstrated that there is football talent in the universities. We wish to tap this talent across our 26 membership around the country. That is why we are proud of the competition growing beyond Kampala," she said.
A previous league game between Kampala University and Makerere University. (Credit: Mpalanyi Ssentongo)

Luwero-based Bugema University assistant sports tutor Tom Olinga, whose team participated in the inaugural competition before it withdrew for sponsorship reasons, said that growth of the league will increase competitiveness of the teams.

"We had missed the competition for a while and I'm happy my team is back at a time the league is growing in competitiveness. We are going to compete and hope that we can take the trophy upcountry for the first time."

Kampala University are the champions of the 2016 edition after they narrowly beat Nkumba University at Namboole stadium.