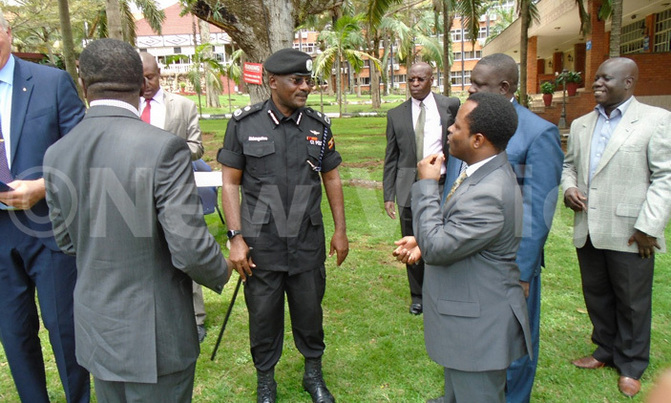 Ndugutse was speaking at the opening of a security workshop aimed at developing a counter terrorism strategy for the great lakes region in Entebbe.
"Extremists of all kinds are increasingly using social media to recruit, radicalise and raise funds. The terrorists are so good in technology that they are able to hide their identities using encryption tools which were once only available to government agencies," John Ndugutse, the Director of counter terrorism in the Uganda Police force has said.

Ndugutse was speaking at the opening of a security workshop aimed at developing a counter terrorism strategy for the great lakes region in Entebbe.

"Our children are constantly communicating on social media but do we know the people they communicate with? How sure are we that they are not being radicalized? You wake up one morning and your beloved child is nowhere and a few days later, you learn that he or she joined Alshabab or ISIS. I am also not secure, my kids are constantly communicating on social media but I don't know who they communicate with, I am worried," Ndugutse said, a statement that left all the participants in silence.

He called on the participants to speed up the process of developing a regional strategy on counter terrorism to guide the stakeholders on how to manage such emerging challenges. "We are in great need of guidance," he said.

Wilson Kajwengye, the Director of Peace and Security at the ICGLR secretariat in Bujumbura said the only way we can confront the growing threat of terrorism, radicalization, violent extremism and the phenomenon of mercenaries is a regional strategy that can be appreciated by all the member states.

"No country is safe when it comes to terrorism, there is either a terrorist cell or they are recruiting, and as such, we need a combined effort. The black widow who led the attack on the west gate mall in Kenya was South African yet South Africa has never registered any threat of terrorism, but does that make South Africa secure?" Kajwengye asked.

The workshop attracted a number of police chiefs and security experts from different regions, notably United Nations office on Drugs and Crime, African center for the study and research on terrorism, Southern African Regional Police chiefs Cooperation, the East African Police Chiefs Organization, the UPDF, Uganda Police and many others.

Conclusions

At the end of the workshop, experts agreed on the harmonization of Laws addressing terrorism, their arrest, detention, prosecution, conviction and punishment. Also agreed on was the protection of witnesses and prosecution of lawyers, regional arrest warrant for the suspected terrorists and their extradition for trial, as well as coordinated, joint investigation and interrogation of suspected terrorists.

The experts also called on each member state to address social economic conditions including but not limited to poverty eradication, employment opportunities for the youth, rule of law and respect for human rights, eradication of corruption, political inclusion and embracing and sticking to good government practices.

They also agreed to timely share early warning information between member states and law enforcement agencies, establishing and maintaining a regional database of suspected terrorists, continuous research and knowledge sharing among member Sstates, strategic monitoring of the internet and related social media and the continuous training and capacity building of experts dealing with counterterrorism in the Great Lakes region.

There was also a call for partnership with the media, civil society, religious organizations and the private sector in the fight against terrorism, radicalization, mercenary phenomenon and violent extremism in the Great Lakes region as well as the ratification and implementation of relevant International and continental instruments that address terrorism radicalization and extreme violence.