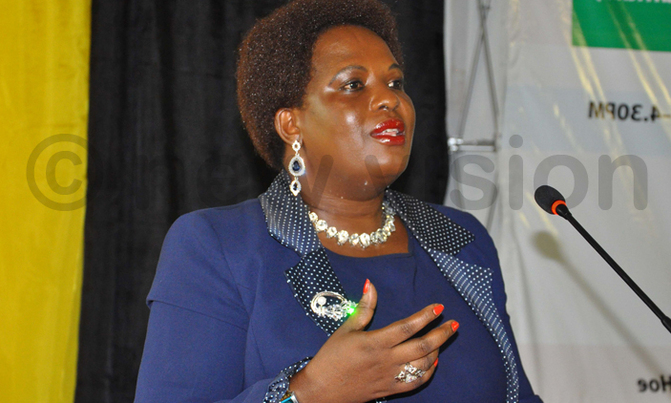 Land can only be taken by government for public undertakings
Government has no plans of giving out people's land to investors under the proposed amendment of Article 26 of the Land Act, the Minister of Lands Housing and Urban Development Betty Amongi has said.
Amongi said the article which provides for compulsory acquisition of land by government, only gives conditions under which government can take over the land in question.
She explained that such land can only be taken by government for public undertakings like construction of roads and dams, facilities for oil refineries, energy production, waste management facilities, electricity, mineral exploration, public health and defence, infrastructure among others.
"Those are the conditions for compulsory acquisition of land not for private investments. I have heard some people confusing others that government's intention is to get land from its rightful owners and give it investors" said Amongi.
She explained that in the proposed amendment, government has introduced sub clause 3 and 4 that suggest that where the two parties fail to agree on the amount of money being given for compensation, government will go ahead and deposit the value of that property with courts or any authority as recommended by Parliament.
Amongi said the amendment emphasizes that before government goes ahead to take over such land, the owner should have been compensated fairly, promptly and adequately.
She said because of land disputes where owners fail to agree on the compensation plan, government estimates projects worth $27bn have stalled to date.
Amongi made the clarification during a land debate organized by Uganda Women's Network, Oxfam and Action Aid Uganda, as part of Women's Day celebrations at the Uganda Museum.
The debate was held under then theme; Linking Women's Land Rights to Women' Economic Empowerment in the Changing World of Work.
However women activists like Agnes Kirabo from the Food Rights Alliance (FRA) said before the amendment can be considered, government should first review the land use and development plans and align them with the urbanization rate which is said to be at 3.5%.
"If we don't review the land use plans and maps to see how they are taking into the developments, there will be no land left for agriculture and the country is bound to be hungrier than what we are facing today" said Kirabo.
Jane Adongo from Action Aid Uganda called for increased awareness of the changes in the land laws for all women including those at the grassroots to understand so they are not left out.
Whereas the Land Act and all the laws are aimed at helping the rural women, what is missing is increasing awareness on land rights and not just access to land but to have control and ownership of land.
"A woman can be given land from her father's home but cannot control it not even using it for any financial transaction or any long-term project. Let's make sure that these women don't stop at using but can also have control of land" said Adong.
Winfred Ngabwire from the Global Land Rights Alert told the minister that efforts should be geared towards helping the women in the oil regions access land by allowing them to be part of the negotiating process so they can have land for food production.
"During land acquisition in oil regions, women are not part of the process so cannot negotiate, it is still the men who decide and they prefer cash instead of land for land compensation, the men later leave the women stranded with families" said Ngabwire.