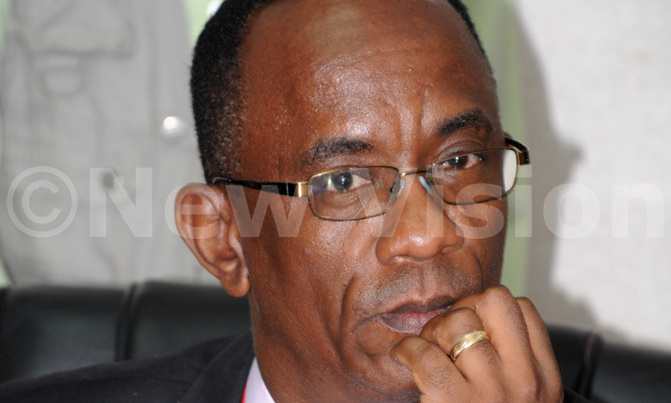 The spokesperson of Ministry of Finance, Jim Mugunga explained that Ugandans are living in increasingly challenging economic times because of the shrinking of the global economy.
Spokesperson of Ministry of Finance, Jim Mugunga . Photo/File

Aware of the mounting economic pressures against traders and other Ugandans due to a struggling economy; the government has come out to advise Ugandans on how to live through hard economic times.

The government's advice is in response to the concerns of the traders under Kampala Capital City Traders' Association (KACITA) over the state of economic affairs in the country.

KACITA spokesperson, Isa Ssekitto told New Vision that many traders are at risk of losing their property over bad debts resulting from the poor performing state of the economy.

Government's advice

The spokesperson of Ministry of Finance, Jim Mugunga explained that Ugandans are living in increasingly challenging economic times because of the shrinking of the global economy.

"Uganda is not an economic island but a nation that thrives on the wellbeing of others in the region, the continent and world at large," Mugunga said. "We depend primarily on trade in goods, services and repatriations by Ugandans abroad. If countries like South Sudan and Kenya buy less from us due to the decreased spending power among other factors, this is bound to impact us economically."

He noted that Ugandans used to earn a lot of dollars from the lucrative trade in South Sudan before the war swept the world's newest nation and forced Ugandans out of the trade.

Mugunga added that the negative impacts that hit western economies where Ugandans work to send dollars home cannot be ignored.

"During the most recent budget speech, the Minister was forthright in revealing that the increased demand for money to meet a growing list of fundable priorities cannot be easily marched by the available resources," he added.

In a recent interview with one of the local dailies, outgoing chief executive officer of Standard Chartered Bank, Herman Kasekende explained that Uganda's economy has been slowing down with growth rates of 4 to 4.7 percent, falling below the 6 percent growth of the 1990s. He said the economy should be growing anywhere between 5 and 6 percent today.

Arvind Patel, the board advisor for Uganda National Chamber of Commerce, told Sunday Vision that low exports, drought, increase in costs of production and poor balance of trade have all combined to affect Uganda's economy. "Due to a long drought, farmers could not produce goods and get money to consume commodities on the market," he said.

Entrepreneur's experience

Stuart Jason Mwesigwa, the business development partner at roofing Group told New Vision that the current economic situation is horrible because loans are very expensive to secure locally yet consumption is very low.

"The high interests on loans are hindering long-term investments," Mwesigwa said. "You get a loan today at an exchange rate of sh2500 per dollar and just after three years, the rate has shot-up to sh4000 yet the cost of your product has not changed."

Since last year, there have been conflicting reports about the worsening state of economy in Uganda with sources in the financial and business sector even complaining the more. At one point, a group Ugandan businessmen petitioned government for financial bailout but many Ugandans uprightly rejected it.

A number of companies including Uganda Telecom (UTL), Crane Bank and WBS television have since collapsed due to a struggling economy.

How to live through the hard times

Mugunga explained that the success of the government efforts to save and make more resources available can only succeed when complimented by ordinary Ugandans. He said Ugandans need to adjust to the times; spend within means and save as much for every shilling counts.

"It should not be lost to many that the hitherto speculative economy has since left the stage. No free money to be made from pension and procurements; there is no money to be diverted to personal use or diverted from nonpayment of water and electricity bills and impunity is increasingly of the past," Mugunga said, adding that "government is now fully pushing for compliance in payment of taxes and hence the super margins importers used to make on sales due to evasion are no more."

Mugunga explained that the available resources in the economy will be for those who truly work and earn from such sectors as agriculture, service industry, self-employed or the salaried.

"It is no longer as easy as it used to be to sustain a situation where every evening used to be the norm for an individual to entertain a handful of colleagues to a drinking spree and pork," Mugunga said. "The reality of the times is that this is no longer a sustainable option. Individuals are better off well informed to make their choices on expenditures premised on available resources ad capacity."

Government fixing the economy

Mugunga also assured Ugandans that government is fixing the economy. "Despite the current challenges, Uganda has continued to register positive growth as confirmed by both the IMF and World Bank country reports on our economy," he said. "The country can no longer allow excesses and leakages to be the norm in managing both national and personal resources."

Mugunga added that the President and ruling party are also not seated when it comes to fixing the economy and that "we either fall in line with the Hakuna Muchezo message of the President or ship-out."

"The pace has been set. No more ghosts on the payroll; no more uncommitted or spent cash in accounts all-over the place," he said. "There is a lot more funds committed to settling domestic arrears besides putting more emphasis on monitoring and evaluation of project delivery and performance."

Kyambadde weighs-in

Trade Minister, Amelia Kyambadde told Sunday Vision that she was very much aware of the bad economic times in the country, blaming it on five causes including the fluctuating dollar, long drought period, post-election chaos and investments in major infrastructural projects.

"Previously, government injected more money in infrastructural projects like roads, oil and dams and it was not reaching the common trader like in the past," Kyambadde said.

She noted that the current rainy season will allow people to plant on large scales and that better harvests will be made within the next seven months to salvage the current economic situation.

KACITA's concern

Ssekitto told Sunday Vision that if the situation doesn't change soon, in the next four years, more Ugandan traders will have lost more of their properties such as buildings, land, schools and factories to banks after failing to pay back bank loans. "There is an increase in the number of properties being attached in the city peripheries, like Nakawa, Lubaga, and Kawempe."