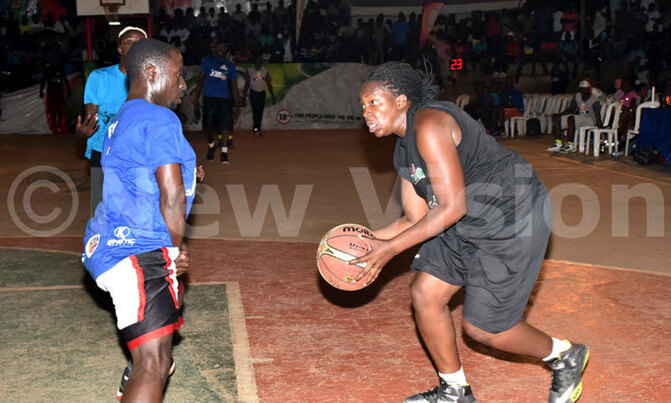 The new rule introduced by the event organisers is that it's the fans who will have the final say.
PIC: Players battle in a previous game of the Friday Night Lights event. (File)

FNL SEASON 7: TODAY AT YMCA

Team Enabu v Team Wazee

Team Fahmy v Team Flirsh

Team O'team v Team Makiadi

Team Blick v Team Enabu

Team MCGyver v Team Ayo

Friday Night Lights (FNL) basketball is back - with more teams and a new rule.

As the seventh season of the annual basketball event kicks off this evening at YMCA in Kampala, fans will be delighted to know that, besides cheering their sides on, they will also directly determine the winner of a given game.

How, I hear you ask?

With your phone!

The new rule introduced by the event organisers is that a team's accumulated points won't determine the winner. Rather, fans' votes will.

So, the more entertaining a team is, the higher that team's chances of winning the game. If you feel a particular side did it for you, vote for it.

This, according to FNL managing director Tom Ocyamuringa, is to inject more entertainment and life into the matches.

Only the fans watching the game live will vote and they will be told how to do so by organisers at the venue.

"The teams' scores will not matter. It's the fans' votes that will. So the team that is more entertaining stands a higher chance of winning," said Ocyamuringa.

Fans will have 15 minutes after a game to vote using their phone by choosing their more favored team.

Ocyamuringa said the new format is intended to rule out the competition aspect in FNL games that had turned the event into a rivalry-filled competition, with a ripple effect to the national level.

"The new format is intended to revive the original purpose of FNL games which is fun among the players and fans, and not competiton. I believe this format will be in position to sort out this issue," said Ocyamuringa.

Meanwhile, three teams have been introduced into the mix - bringing the total number to 10. The new entrants are Makiadi, Ayo and McGyver.

This year's event sponsors - Roke Telecom, House of DJs, Diners Lounge, Capital FM, Betway - will offer cash prizes, fans giveaways, media partnerships and cheap internet connectivity during game nights.

For every game won, a team will receive a cash prize of sh300,000 while the overall champion will bag sh3m.

Jonah Otim's Team O'team are the defending champions.