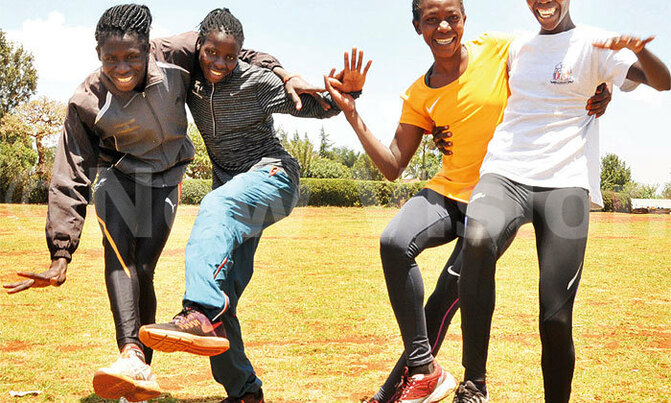 The tests will be conducted at the National Ceremonial grounds, Kololo where the world meet will be staged.
PIC: Team Uganda members take time off their busy training schedule. (Credit: Norman Katende)

Uganda Broadcasting Corporation will today have yet another rehearsal ahead of the IAAF World Cross Country Championship.

Local organizing committee chairman Domenic Otucet said the test run is one of the last preparatory measures for the March 26 event.

The tests will be conducted at the National Ceremonial grounds, Kololo where the world meet will be staged.

Otucet explained that the hosts Kampala Capital City Authority (KCCA) has already released the sh555m for the television rights.

KCCA has also paid sh425m to UBC for production. UBC as the host broadcaster will contract Azam Television to deliver a high definition feed. The two companies in the first test jointly worked at the National Cross Country Championship to deliver what Otucet described as an impressive live coverage.

"Even IAAF was impressed. We are confident they will also do a good job on March 26," said Otucet.
A moment to relax after the day's training in Bukwo. (Credit: Mpalanyi Ssentongo)

The national meet was also held at Kololo on January 14. TV Media Sport in 2014 acquired the rights to IAAF World Athletics Series events in sub-Saharan Africa for four years.

Otucet said they had initially intended to also involve South African pay television DSTV through its channel SuperSport but found their charges too high.

The world cross country will be the biggest sports event ever to be hosted by Uganda. Over 60 countries with close to 1000 people are expected.

The numbers are expected to further shoot up with Kenya, an athletics giant, that has won the event most times, expected to send huge numbers to Kampala.

This IAAF event is the most important competition in international cross country running. Held annually and organised by International Association of Athletics Federations (IAAF), it was inaugurated in 1973, when it replaced the International Cross Country Championships.

It was an annual competition until 2011, when the IAAF changed it to a biennial event. Uganda has consistently featured in the event since 1998.