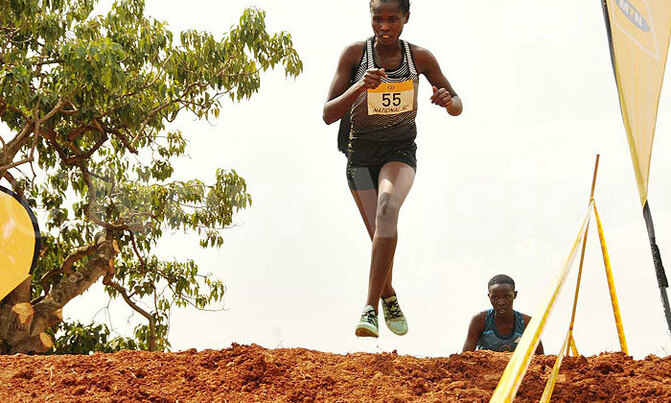 "I can do better. All I need is a little more practice and exposure."
PIC: Peruth Chemutai takes on a hurdle in the Junior women National cross country championships at Kololo Independence Grounds on January 14, 2016. (Credit: Norman Katende)


Her childhood dream was to become either a doctor or teacher.

"I always visualised myself either treating patients or on a blackboard imparting knowledge," says Peruth Chemutai.

That all changed in 2013 when she attended the District Athletics Championships in Bukwo.

What started as a casual visit ended up in a passion for what she was seeing. This marked the start of what could turn out as a lifetime involvement in athletics.

"I liked what I was seeing. Running looked real good. I felt like trying it out," Chemutai, then a Chemron Primary School student recounts.

Days later she ran with seasoned athletes and realised that she was also good.

"I discovered that I could compete with some of the athletes who had made running a profession. So I decided to take it up."

Two years later she was reaping big. Besides being a star in her home district in Bukwo, she was also winning Uganda medals. She won two silver at the Commonwealth Youth Games in the 1500 and steeplechase.

The following year she hit the Rio Olympics qualification mark. But inexperience caught up with her. Losing speed over the hurdle and landing awkwardly in the steeple greatly slowed her Rio de Janeiro's Estadio Olimpico.

She eventually finished seventh, bowing out of her heat. But she still left with her head high having improved her personal best.

"I can do better. All I need is a little more practice and exposure and I will be able to compete with the best," she said at the time.

Her dream is to not only win gold at the Tokyo 2020 Olympics, but to also break the steeplechase record. There is already enough evidence that she has put in some hard work.

She won the national cross country championship. She believes a medal is within reach in the world meet.

"The beauty with this edition is that we are at home. We shall have huge home support."

Her steeplechase background is an added advantage in the cross country.

"I am not shaken by the barriers that await us at Kololo. That's an expected part of the race just like in the steeple-chase."