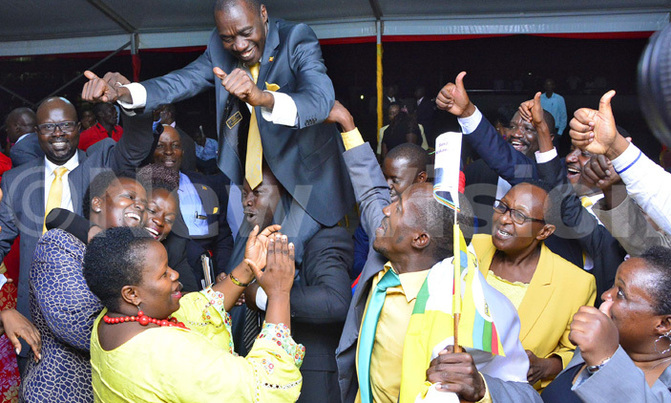 A year later, the towering and pencil size man, picked forms to contest for the East African Legislative Assembly (EALA). He lost. It was his second attempt after losing miserably in 2006.
MPs congratulate Paul Musamali after winning the EALA elections at Parliament on February 28, 2017. Photo by Miriam Namutebi.

In 2011, a man walked into the parliamentary committee of natural resources and sat near journalists. Armed with a pen and notebook, he started to jot down word as he followed the deliberations, especially whenever issues of policy dominated the interface between lawmakers and ministry of energy officials. Keen on details, the man never missed any committee session—at least for that week.

Many journalists thought he was one of them. And when some inquisitive scribes asked which media house he worked for, his answer shocked many. "My name is Paul Musamali. I am an assistant secretary with the National Resistance Movement (NRM) parliamentary caucus," he said.

A year later, the towering and pencil size man, picked forms to contest for the East African Legislative Assembly (EALA). He lost. It was his second attempt after losing miserably in 2006.

But like a termite building an anthill, Musamali never gave up on his goal. In 2017, he again gave the EALA race a shot and surprised many, including avid political actors such as former minister and lawmaker, Francis Babu, who failed to make it out of the NRM parliamentary caucus political sieve.

Musamali, a senior assistant secretary in the office of the Government Chief Whip, emerged top of the batch when NRM lawmakers voted representatives of the party in EALA. He got 157 votes ahead of former ministers - Rose Akol (139 votes) and Mary Mugyenyi (115 votes).

Working for MPs

It is this surprise win that has put Musamali in the limelight with some political actors wondering how an office assistant can garner such political gravity to sway the voting appetite of the often difficult lawmakers of the ruling party.

"Having attempted twice and lost, I remained steadfast instead of sour grapping. Patience and consistence have been key to my success," he told New Vision in an interview recently.

"He is one of the few office messengers, who MP across the political divide (NRM, Independents and Opposition), trusted wholly. You can send Musamali to pick money from someone and be assured that he will bring it to you intact," said a lawmaker, who preferred anonymity.

Yet underneath the at-your-service character, which has endeared many lawmakers to him, Musamali's political progress has also been shaped by his mobilisation skills, which he has honed since 1989.

"I have worked with NRM and done mobilization for the party for a long time. However, I was lucky to be deployed in the office of the Government Chief Whip," he said.

During his time in the office of the Government Chief Whip, Musamala said, he worked with lawmakers and he was able to establish strong ties with these influential political actors in Parliament.

"They (MPs) became personal friends. I conducted research for the party in committees and constituencies of MPs. Many of these MPs came to appreciate my work. In fact during the parliamentary caucus elections, one MP said: 'This man! We have inconvenienced him left, right and centre but we rarely see him get annoyed.' Therefore, I have done mobilization and research for majority of the MPs," he said.

Student mobiliser
Musamali, 45, also draws lessons from President Yoweri Museveni, who he says one time remarked: "for you to be a good leader, you need a freezer on your head to help you cool down."

The attribute of staying calm under pressure is what Musamali believes endeared him to lawmakers.

Musamali says that going by the recent events, one might think that he is a political novice, who emerged from nowhere. However, he says, his political career was honed during his days at Makerere University, where he contested for Guild President and lost to Jeema's Yusuf Kiranda in 2003.

Yet despite this set back, Musamali persisted and formed the NRM forum for Makerere University, a mobilization entity, which he used to recruit over 3, 000 students, who were trained at the National Leadership Institute, Kyankwanzi in basic military skills.

After university, where he trained as a social worker, Musamali was recruited as a researcher by the former director of youth affairs at State House, Alice Kaboyo.

"I left State House to work as a researcher for NRM in Parliament. This job included doing research for MPs and the party on Parliament issues, which the political leadership wanted to include in policy statements. In fact, I am proud that I was part of the research team that contributed to the 2011 NRM manifesto," he said.

Musamali remained a research assistant until he was recently promoted to principal assistant secretary in the office of the Leader of Government business, a position he resigned from to contest for EALA.

"My role has been to ensure the execution and implementation of Government business in Parliament. This work also involves talking to opposition MPs to ensure that Government business sails through when fronted on the floor of Parliament," he said.

EALA mission
Speaking about the representation in EALA, Musamali believes that there gaps between the elites in Arusha and the citizens of East Africa. It is the need to bridge the gap between elites and citizens—in terms of bringing East African Community attributes to the people—that has made Musamali persistent on his attempt to represent Uganda at EALA.

"It is an obligation of our generation to put right what could have gone wrong with our history. I have seen a gap between the elites and the citizens in East Africa. This gap must be bridged, and I am going to Arusha as a bridge," he said.

Musamali also looks at the unity of East Africa and Africa as a huge goal that must be achieved.

"Uganda can't stand alone in this world. We must therefore create a united East Africa so that we can demand our rights from the world order as a bloc," he said.