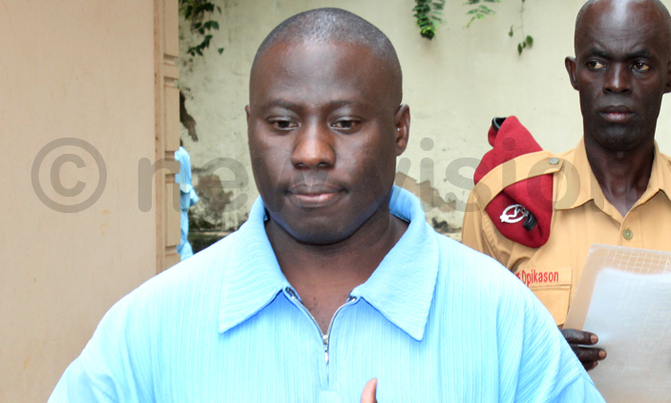 The former OPM accountant accused his former boss of acting in contempt of court by publishing and selling a book that contains evidence on ongoing cases
Convicted former principal accountant in the Office of the Prime Minister (OPM), Geoffrey Kazinda has been ordered by Court to pay sh77.3m to Pius Bigirimana, his former boss.
The money was awarded as costs to cater for the money Bigirimana, former OPM permanent secretary, spent during the time he (Kazinda) filed a lawsuit, accusing his former boss of defaming him in his book 'Corruption, A Tale Of Wolves In Sheep's Skin'.
Kazinda who was convicted of corruption and is still fighting several other corruption cases at the Anti-Corruption Court, argued that Bigirimana, who is the current permanent secretary in the Ministry of Gender, Labour and Social Development, attacked his personality when he (Bigirimana) portrayed him as a difficult accountant who acted as a footman in a drama in his book.
He accused Bigirimana of acting in contempt of court by publishing and selling a book that contains evidence on ongoing cases. In the law suit, he also dragged in a one Julius Seremba and Deft Publishers Ltd.
Kazinda, asked court to commit Bigirima to a civil prison, order him to pay sh6b as compensation for defaming him and put a permanent injunction stopping the publication and sale of the book.
In response, Bigirimana denied the contents of the suit and said that whatever he referred to in his book, were got from the findings of the Auditor General on forgery at the OPM.
He also argued that by the time of writing the book, Kazinda had already been convicted and sentenced by the Anti-Corruption Court in a case where he (Bigirimana) was a witness.
"I am not the one responsible for the applicant's conviction and sentence, neither do I take responsibility for his ongoing trial at the Anti-Corruption Court, thus he cannot use me as an avenue for enrichment in perpetuation of his ridiculous compensation claim of sh6b" he said.
When the matter came up for hearing before Justice Elizabeth Musoke, on July 1, 2015, Kazinda decided to withdraw the case but in her ruling, Musoke awarded costs to Bigirimana.
A certificate of taxation issued on February 12, 2017, by the court's deputy registrar, Alex Ajiji, shows that the bill of costs has been taxed and Kazinda is required to pay sh77,390,750.
In 2013, Kazinda was sentenced to five years imprisonment after court found him guilty of forging 26 signatures of Bigirimana, in order to defraud government of billions of money.
The documents he forged include security papers and withdraw forms. However, he has since appealed against the sentence.
Currently, he is battling three corruption cases in the same court, they include illicit enrichment of over sh4b, causing government a financial loss of sh316m; money meant for fuel and embezzlement of sh5.4b meant for post-war reconstruction in Northern Uganda and Karamoja.