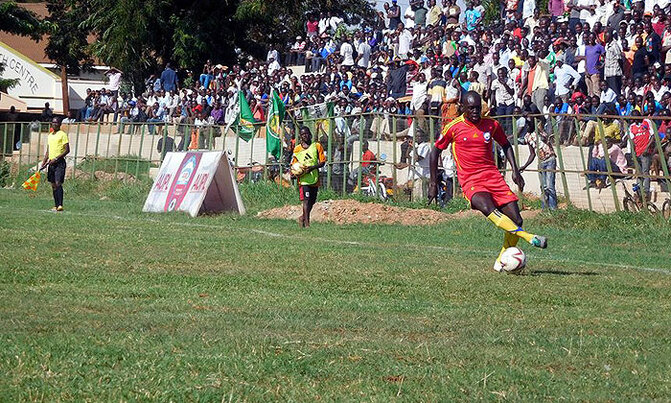 Both sides settle for a point in the Jinja derby at Kakindu Stadium.
PIC: A Jinja SSS player controls the ball against BUL FC at Kakind Stadium. (Credit: Bruno Mugooda)

AZAM UGANDA PREMIER LEAGUE

Tuesday results

BUL 0-0 Kirinya Jinja SSS

Sadolin Paints 0-1 URA

The Saints 1-1 Police

Proline 4-2 JMC Hippos

Onduparaka 0-0 Bright Stars

BUL FC midfielder Robert Achema will rue four missed opportunities as his side failed to fashion a win against Kirinya Jinja SSS at home.

Both sides had to settle for a point in the Jinja derby at Kakindu Stadium on Tuesday.

They remain rooted in the relegation zone, with Jinja in 14th place on 17 points while BUL are second-last also on 17 points.

Jinja SSS are ahead on goal difference.

A win for either would have helped their cause in the thick of the relegation battle but it was the home side that was guilty of squandered chances in front of goal.

BUL were dominant right from the start, with Orum Chan, veteran striker Yudah Mugalu and Achema combining well in the opening half but found Achema in wasting mood.

On a good day, the attacking midfielder should have turned in those clear-cut chances. Not this time though.

Jinja SSS returned after the interval a much improved side that saw Ivan Ntege come close twice. In one of the chances, he swept his effort over the bar when he should have aligned his bearings much better.

In the end, the battle spoils had to be shared between the two struggling Jinja sides.

What the coaches said

BUL FC stand-in coach Peter Onen: "We had all the opportunity to win the game in the first half but it's unfortunate that we could not bury them. It's so annoying that these chances have really cost us a win we could have got today."

Jinja SSS head coach Abbey Kikomeko: "They had their share in the first half and we had ours in the second half but it was a tense derby today. Chances for Jinja clubs to avoid the drop are still standing at 80% but there is still room to improve."

What next?

Next up, BUL will be back in league action on Friday when they travel to 10th-placed Police FC.

Jinja SSS will have an extra day to rest before they host 9th-placed Express FC on Saturday.