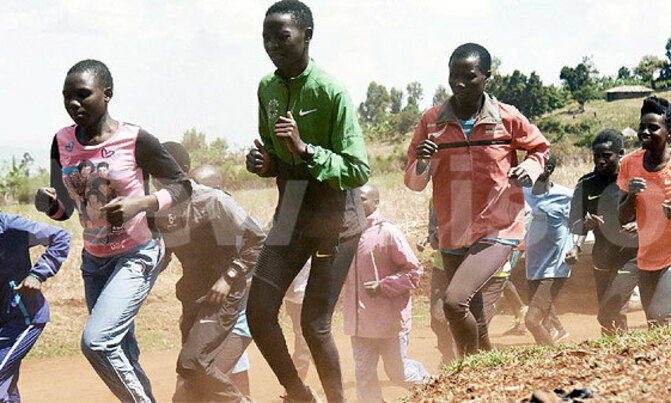 "We don't want a situation where Kenya overshadows us in the stands at Kololo."
PIC: Athletes training in Bukwo ahead of the world meet due in Kampala. (Credit: Mpalanyi Ssentongo)

KAMPALA - With news that Kenya is mobilizing huge numbers to support its World Cross Country team, the hosts have also gone into over drive.

"We don't want a situation where Kenya overshadows us in the stands at Kololo,"vowed local organizing committee chairman Domenic Otucet.

IAAF World Cross Country Ambassador Paul Tergat last week warned Uganda that Kenya would be sending huge numbers to back its team.

Kenyans are more enlightened about the biennial event because of the country's rich history in the competition.

Otucet and his team are also not sleeping.

"We are also seriously mobilizing to ensure that we are in charge that day," he said.

The hosts have for starters given students free entry.

"All they have to do is be in uniform. There is also a deliberate move to have higher institutions of learning well represented," Otucetn added.

Uganda Athletics Federation (UAF) has also involved the leadership in the Sebei region where the bulk of the team hails from.

"We want them to come in big numbers and cheer their children. There is extra morale when you compete knowing your relatives are in the crowd," Otucet added.
UAF is also using its delegate structure in a bid to mobilise support from the entire country.

State Minister for Sport Charles Bakkabulindi has on his part taken the mobilization to parliament.

"He has assured us of maximum cabinet and parliament presence at Kololo," said Otucet.

In an incredible show of dominance, the senior men's team race has been won by Ethiopia or Kenya every year since 1981 in both the short and long races.

These nations have enjoyed a similar stranglehold on the junior men's races since 1982. In the senior men's 12 km race, Kenya won the world championships for an astounding 18 years in a row, from 1986 to 2003, a record of unequaled international success.

Likewise on the women's side, only one other nation has won the long team race since 1991: Portugal, in 1994.

These nations were not quite so dominant in the short races, but they have won every women's junior race since its introduction in 1989.