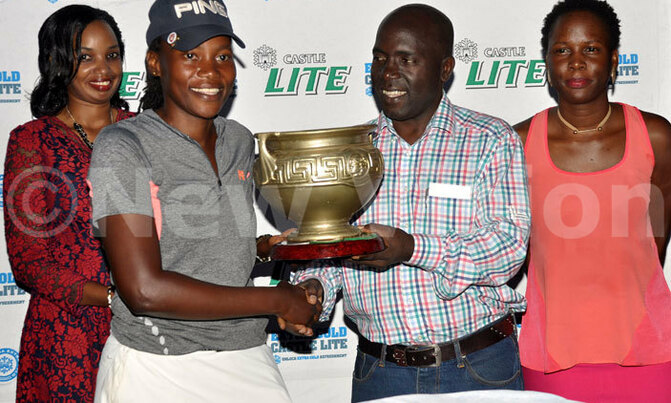 Nakalembe set the pace with a first round three-over-par 74, that was only matched by Monica Ntege but the latter shot eleven-over-par 82
Top 3
Irene Nakalembe 74, 78 152
Gloria Mbaguta 84, 77 161c/b
Eva Magala 78, 83 161
Irene Nakalembe is over the moon after completing a hat-trick of the Castle Lite Entebbe Ladies Open wins at the 7th edition of the championships that ended at Entebbe Club on Saturday.
Playing off handicap 5, the national team player returned 152 gross (74, 78) over 36 holes, to beat her nearest rivals Gloria Mbaguta and Eva Magala, who tied in second on 161 gross each, by 9 strokes.


Nakalembe set the pace with a first round three-over-par 74, that was only matched by Monica Ntege but the latter shot eleven-over-par 82, in the second round, eventually handing the victor an easy win.


"Today was really a wonderful day though I had a good round on day one. My playing partners gave me a good game; I would like to thank the sponsors and the organising committee for making it happen," Nakalembe said.
"I'm very happy for the treble, no one has done it before so I'm really excited and I would like to thank all those who have had a hand in helping me with my game," Nakalembe stated.


On top of a trophy and a golf bag she won her self a weekend for two on the shores of Lake Bunyonyi and a year's full kitting sponsorship from MSL.


Vicky Elias from Tanzania won the ladies Group A with 155nett, with Monica Ntege (157nett) beating Resty Nalutaaya on count back for second place.
Phoebe Chandiru (145), Robinah Angom (146) and Joweria Namanda (148nett) were the top players in Group B.


Melon Kyomugisha, Anne Abeja as well as Esther Okullo also received prizes for the day one and day two gross scores and the seniors winners' prizes.


Peter Tapi and Rogers Eyoyo were the top playes in the men's subsidiary event.


The tournament was sponsored by Castle Lite, Britam, Chwezi and MSL.
Meanwhile former Entebbe Ladies Open champion Flavia Namakula continued to make strides in the Sunshine Ladies Tour in South Africa when she made the cut in the Sun International Ladies Challenge at Sun City on Thursday.


Playing in her 8th tournament since January, Namakula returned 231 gross (72, 76, and 83) to earn some cash (sh2.8m) from the event won by South African Ashleigh Buhai who shot a winning score of 10 under 206.


Namakula who has only missed the cut once out of eight competitions is currently playing in the Johannesburg Ladies Open (March 5-7).