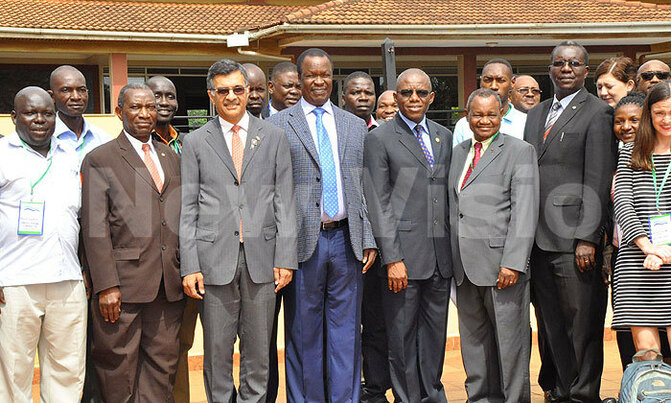 "The issue of sanitation coverage and hand washing practice after visiting a latrine eludes our local communities."
PIC: water and environment minister Sam Cheptoris poses for a photo with Rotarians during the 2nd Rotary wash Summit at Silver Springs Bugolobi. (Credit: Nancy Nanyonga)

The minister for water and environment has said that despite the 79 % toilet coverage in the country, only 36% Ugandans do wash their hands after visiting toilets.

Sam Cheptoris revealed this at the launch of Rotary Wash Summit in Kampala, which is organized by Uganda Rotary Water Plus (URWP).

The statistics are from the Sector Performance Report (SPR) 2016.

"The sector has made significant progress in improving access to clean water but the issue of sanitation coverage and hand washing practice after visiting a latrine eludes our local communities," he said.

Minister Cheptoris lauded URWP for the initiative of providing clean and safe water to Ugandans and assured them of government's commitment to partner with social clubs in improving the wellbeing of Ugandans.

He said Uganda has improved in the provision of clean water across the country and promised that by 2020, the coverage of clean water will be at 100%.

"On the overall, the country's access to clean water stands at 67% for the rural dwellers and 71% for urban dwellers according to SPR report 2016."

Overall, low household productivity and ill health as a result of poor access to clean water continue to be evident which Cheptoris attributed to the distance involved in accessing clean water.

"This has been made worse by lack of proper storage facilities for water within, hence households making community members waste time moving in search of clean water."

On environment protection

The minister also urged URWP to champion environment protection against the background that indiscriminative human activities like charcoal burning, brick-making, among others have contributed to high siltation of water bodies in the country.

"I call upon Rotarians to support government to protect natural resources and promote their sustainability. Water catchment areas are drying up among other effects and this explains the global warming."

On his part, Francis Xavier, the country chair of Rotary Uganda, expressed their commitment to engaging all stakeholders and tackling challenges regarding water and sanitation in the country.

"We are willing to partner with any government and non-government institutions to be able to improve the wellbeing of Ugandans."

Xavier said as many as 2.4 billion people globally have no access to toilets and proposed that access to toilets should be included among the human rights.