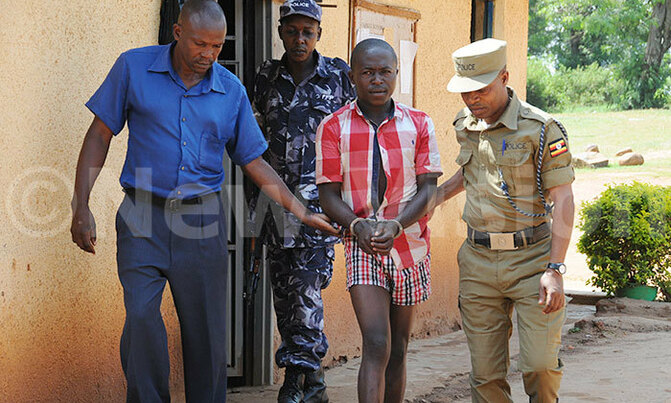 In a chilling confession, a 19-year-old in Kagadi town tells of how he hit his human sacrifice target three times in the head to snuff him out.
A teenager in Kibaale district has confessed to killing his friend on the promise of getting rich quick.

Bright Byaruhanga, 19, told police in Kagadi town that he had been given a condition to sacrifice a human being for wealth.

He was arrested after his father, Patrick Kabagambe, reported a murder case to Bwikara police post.

Ivudia Eriga, the deputy officer in charge of criminal investigations at Kagadi Police Station told New Vision local police then swang into action and took Byaruhanga into custody.

The victim is Robert Tumusiime, 26.

In his confession, Byaruhanga told of how his father had assured him that he did not have the money to educate him further.

"When I completed Senior Four last year, my father told me that he does not have any money for my education because of he has other young children to take care of."

So in December, he travelled to Kampala and began working as a mobile money attendant, he added. There, he made friends who reportedly told him of a way of acquiring wealth quickly without toiling much.

He was right way interested.

Finding a human target

The teenager said that while working in Kubiri, not far from the city centre, two friends took him to a famous traditional doctor who told them that they had to first undergo some tests before being recruited into the "Illuminati".

They were then taken through rituals at a shrine in Kampala where they reportedly came in contact with a live python, lion and other animals.

Byaruhanga said they were then told go and make a human sacrifice and open up bank accounts onto which the money (get-rich-quick money) will be deposited automatically.

Determined, he then set out to fulfil that task.

Speaking in a rather low tone, the teenager told police that when he came back to the village in Kagadi town where he had completed his Senior Four from, he met Tumusiime at a sports betting point and the two struck a friendship.
The chilling episode

Later on, Byaruhanga invited his new friend to their home in in Kayanja village in Bwikara subcounty - set on sacrificing him.

They got home at around 2.00pm local time. Lunch was not yet ready and Byaruhanga's parents were around. Later after lunch, his parents returned to the garden, leaving Byaruhanga with Tumusiime and his other two younger siblings.

At one point, Byaruhanga's brothers went out of the house and he decided to seize the opportunity. He said he struck an unwitting Tumusiime with a big stick on the back of his head, three times - killing him instantly.

After executing his mission, the fearlessly desperate teenage killer dragged the body of his victim out of the house and dumped it in a nearby bush before fleeing off to Kagadi town using a motorcycle he had hired.

But his siblings had seen him drag the body to the thicket.

They alerted their father who found the body and immediately reported the matter to Bwikara police post, who in turn alerted the police in Kagadi.

A roadblock was mounted to intercept the fugitive young killer.

The escape plan

Byaruhanga confessed that he hired a room at one of the lodges in Kagadi town so that he could flee to Kampala after completing his mission.

But towards midnight on Tuesday, he received a call from his father, who told him that police was looking for both of them. Byaruhanga did not know that his father was working with police to get him.

So the senior man told his son that he joins him in an area called Muhorro so they could flee together.

But on reaching the meeting point, police had cordoned off the area and the young man was trapped. He was immediately arrested and driven back to Kagadi where he remains detained.

He claimed he wanted the money to keep him in school.

"I am sorry to the bereaved family because I was misled because I wanted to get money," a repentant Byaruhanga told New Vision.

He made another chilling revelation: his two friends are also planning to sacrifice so that they can fulfil their mission.

Ivudia Eriga of Kagadi Police Station said police picked Tumusiime's body and took it the Kagadi Hospital mortuary. After a postmortem examination, the body was handed over to the family for burial.

A case of murder has been recorded at Kagadi Police Station as police investigations continue. The matter will be forwarded to the Director of Public Prosecutions (DPP) for advice on charges to be preferred.

Eriga said this is the first such case reported in the district.