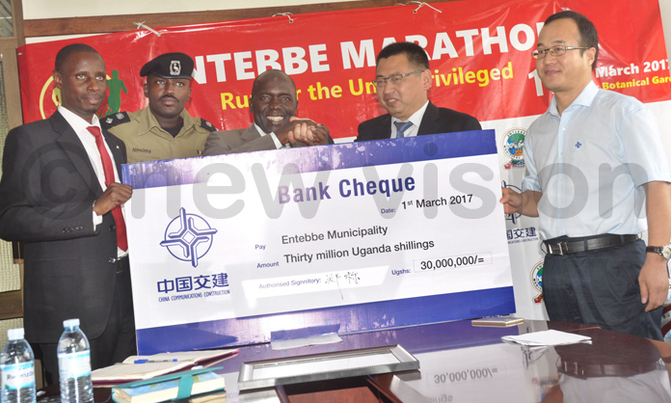 China Communication Construction Company (CCCC) offered sh30m to cater for the logistics of the marathon
Uganda long distance runners have been presented another opportunity to make more cash from their talent following the launch of the inaugural edition of the Entebbe Marathon due, March 19.
The winners from the 42, 21, and 10km races on the day will on top of winning different prizes on the day, be flown to Wuhan City in China to compete in the lucrative Wuhan City Marathon where the overall winner bags in excess of sh200m.
All races will begin at the Entebbe Botanical gardens, enroute the Entebbe Express Highway, Kajjansi and back to Entebbe.
The marathon is held as part of preparation for the main Wuhan Marathon under a partnership Entebbe Municipality has with the Chinese.
Proceeds from the marathon will go towards helping underprivileged children and their single mothers under the Modesta Foundation.
Entebbe Mayor Vincent De Paul Kayanja flanked by Town Clerk told a press conference at the Entebbe Municipal offices yesterday that over 6000 runners including elite athletes, students, the police and the general public is expected to participate in the run.
Entebbe DPC Godfrey Ninsiima said Inspector General of Police Kale Kaihura who will participate in the 10km race will be the Chief Runner.
China Communication Construction Company (CCCC) offered sh30m to cater for the logistics of the marathon. CCCC deputy Managing Director Ding Jianming accompanied by a number of his staff presented the cheque to Kayanja.
"We have a great passion for the people and the communities in which we operate and we remain committed to helping them improve their welfare," Ding said.
"We are pleased that proceeds from this marathon will go towards helping needy children and women. We believe people deserve to live in the best conditions of life to achieve their full potential," Ding added.
Kayanja thanked the different partners like CCCC, ENHAS, DAS Air Cargo, Movit for supporting the marathon and the police for getting involved in the mobilization of the participants.
"We want the whole public to come and run for charity, health and fitness because but our main aim is to help the less privileged; but we want to grow this into an international marathon," Kayanja said.
Runners will pay sh20, 000 each while students will participate for free. Kit for the marathon will be got at all the Police posts in Entebbe, Municipal Council offices and at the Victoria Mall.