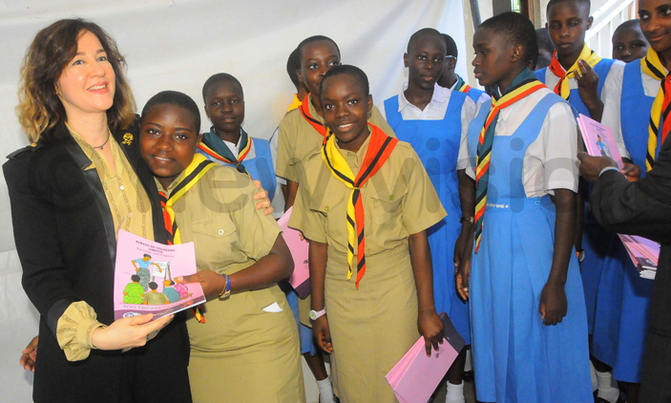 The Turkish envoy to Uganda donated 600 text books on democracy and patriotism
Government has been urged to promote democracy, peace and patriotism in schools, which is being done through a strong partnership between Turkey and Uganda.
"You cannot build a nation without people having patriotism in country. In order to achieve this with industrialization people should love their country as the first priority," she said.
Turkish Ambassador Sedef Yavuzalp was presiding over the launch of the peace, patriotism and democracy education training guide in schools at Rubaga Girls Secondary School in Kampala and Old Kampala Secondary School.
The Turkish envoy to Uganda donated 600 text books on democracy and patriotism to two schools in Kampala with a target to reach out to others across the country. In the framework of the project, thousands of books will be distributed to additional schools.
She added that through patriotism, the Turkish people failed a terrorist military coup on July 15, 2016 that was perpetrated by FETO (Fetullahist Terrorist Organization) with the aim of overthrowing the legitimate democratic constitutional order, the Government and the President of Turkey.
"When you look at the median age in Uganda, you see that it's 16. This is very precious potential for Uganda to develop," she noted.
She explained that Uganda's patriotism and democracy are crucial to prosperity and development of the nation. Children have to be staunchly patriotic people and should love their country.
"As young people you have a duty and responsibility to support your country to develop,"she noted.
She however cautioned pupils that there are some schools affiliated with FETO terrorist organization promoting to brainwash and indoctrinate young people.
The envoy further said: "in order to live up to this potential with a view to ensure the country's peaceful and prosperous future, quality education of Uganda children is of great importance. Turkey exerts every effort in different fields to contribute to the bright future of the African continent".
The Chairman of Always Be Tolerant Organization (ABETO) Moses Musana said that the aspect of peace education has not been emphasized adding that the partnership between Turkey and ABETO will support enhance patriotism in the country.
He noted that Uganda's education curriculum content is both formal and non-formal. Building of democracy of the pupils while they are still in school is very crucial. Peace should anchor prosperity, co-existence and other ingredients that we need to package in our education curriculum.
The Head teacher of Old Kampala Secondary school Aziida Nsubuga said that their school in the last 86 years has been able to bring up students from different countries affected by war. She added that they a diverse of children from different countries and faith.
"In South Sudan they have many tribes fighting each other. Many girls have been raped during the war and left traumatized. If there is no peace you remain in war," she said.
She said that the project of peace building will enlighten the students to come out as good leaders for our society. She urged students to treat others with needful so that they are treated well.
The Chairman of the Peace building Association, Ronald Baguma, said that the project will enable the building gender equity among the students. The students will be empowered and become citizen when looking for employment after school.
Joweria Nabirye a student at Old Kampala Secondary School said that the student will learn to have equally while in school and share their experience withstanding where they come from.