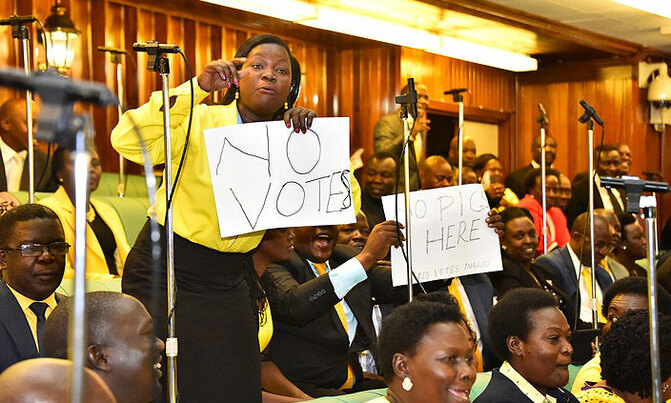 47 aspirants are vying for nine slots
Amidst hostile chants from MPs, FDC's Ingrid Turinawe insisted: "I am the winner. What is happening here cannot bring me down."
Turinawe who defied FDC party president Gen. Mugisha Muntu to withdraw from East Africa Legislative Assembly (EALA) race, could not be listened to by MPs.
As she took to the podium, angry MPs caused chaos crisscrossing from one side to another, shouting and some singing on top of their voice, " Twamuganye Ingrid twamuganye……" which literally means 'we rejected Ingrid.'
MPs accused Turinawe of referring to them as pigs.
Three of the 431 Members of Parliament did not participate in Tuesday's election Speaker, Rebecca Kadaga, revealed.
Each of the five East African Community (EAC) partner states elects nine representatives to EALA every seven years.
The 18 ex-officio MPs will not vote, because they are not elected Members of Parliament, Kadaga said.
The 47 aspirants were recently cleared by the Parliament's verification committee chaired by Beatrice Rwakimari to compete for the 9 EALA slots.
Kadaga insisted that all candidates must follow article 50 the East African Community (EAC).
All adults have lives that are filled with some form of stress, even if we don't truly acknowledge this fact.
She said their voting exercise is guided by the terms of references guided by article by article 50 of the East African Community which states;
According to Article 50(1) of the treaty establishing the East African Community (EAC), a national assembly of each partner state, shall elect, not from its members, nine members of the assembly, who shall represent as much as feasible, the various political parties represented in the national assembly, shades of opinion, gender and other special interest groups in that partner state, in accordance with such procedure as the national assembly of each partner state may determine.
The 47 hopefuls include 37 independents, six members of the National Resistance Movement (NRM), two for Forum for Democratic Change (FDC), one for the Uganda People's Congress (UPC) and one for the Democratic Party (DP).
"By 6th March 2017, we should have elected and gazetted our representatives and reported to the Secretariat in Arusha" Kadaga said.