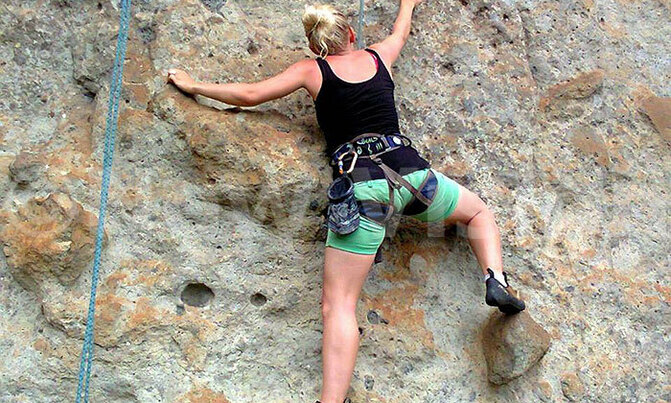 The menu of attractions has grown to include Imbalu – a popular seasonal circumcision ceremony.
PIC: Abseiling at Sipi is one of the thrilling experiences you can try out in Mbale. (Titus Kakembo)

Talk about a trip to Mbale in eastern Uganda and first thing that springs to mind is the erotic dance called Kadodi, scaling Mount Elgon, panoramic Sipi Falls and dining on malewa (a local delicacy of bamboo shoots).

But over time, the menu of attractions has grown to include Imbalu - a popular seasonal circumcision ceremony.

There is now abseiling at the tip of where Sipi Falls begins gushing out. Enthusiasts then rappel 400 meters to the bottom in thrilling fashion.

For many, it's a thrilling memorable adventure.

"The oldest clients we handled were a couple aged 79 and 84 from the UK," said a handler.

"Ugandans have lately picked interest. The adventurous clients compare abseiling to bungee jumping and white water rafting in Jinja."

Sipi Falls is 55km out of Mbale town on the highway to Kapchorwa higher up Mount Elgon.

After abseiling, a night in Mbale town is full of fun at the Sports Club where one could have a game of lawn tennis, darts, pool or table tennis. The town has dance spots where dancers touch the waists of the flexible girls just to be sure their bones are not made of rubber.

Elsewhere are the Abayudaya (Ugandan Jews) and the home of Semei Kakungulu whose descendants are still alive and kicking. The nightlife is so vibrant at Sports Club, Elgonia Discotheque and Hi5.
Oh, and by the way, you cannot get lost if you speak Luganda, Kiswahili or Lugisu in Mbale. English-speaking visitors will find their way around relatively easily too.

Popping like corn

The people come very hospitable. They will show you the house where President Yoweri Museveni missed being nabbed by security organs in Maluku Estate while battling Obote II.

"Gun shots rocked Mbale like corn popping in a saucepan," recounts Hoelina Mugidde. "People fled for dear life. Nobody knows how he [Museveni] escaped. But that was a close shave. The sky had more than stars that night."

So how do you get to Mbale, you ask.

There are buses and omnibuses shuttling to Mbale at sh20,000-sh30,000. The journey takes between three and four hours from Kampala - of course depending on the volume of traffic.

To get to Mbale, it is one hour from either Malaba or Busia border at the Uganda-Kenya border. The same journey takes 60 minutes from Soroti.

And how about getting a place to stay?

There are numerous accommodation facilities in place charging between sh15,000 and sh300,000. There is cheap accommodation at St Andrews Church on Pallisa Road.

Most accommodation facilities have bicycles for hire at sh15,000 - sh30,000 for a day.

Okay, accommodation done. The food matters now.

Nurali's Restaurant, along Market Street, serves spicy Indian cuisines at pocket-friendly rates. The spices are readily available. Vegans (vegetarians) have several options. But what is popular remains Chicken Tikka, Bagiya and rice.

For local options, Mukwano Restaurant, along Naboa Road, sells matooke (bananas), pilau, sweet potatoes, Uganda, etc.
While in Mbale, be sure to dig into a delicious 'rolex'. (Credit: Titus Kakembo)

At Casa de Tourista, for example, I sipped a strong cup of coffee and rolex (omelette rolled in chapatti) that had me belching and part with sh10,000.

The joint is popular with backpackers. They shuffle about as they network on social media with keenness.

"We make the best rolex in this side of Uganda," said Saleh Naminya, proprietor of Casa de Tourista. "Vegetarians have a field day with the one stuffed with malewa, nakatti or lettuce. And the conventional diners will have theirs with chicken, minced beef or fish."