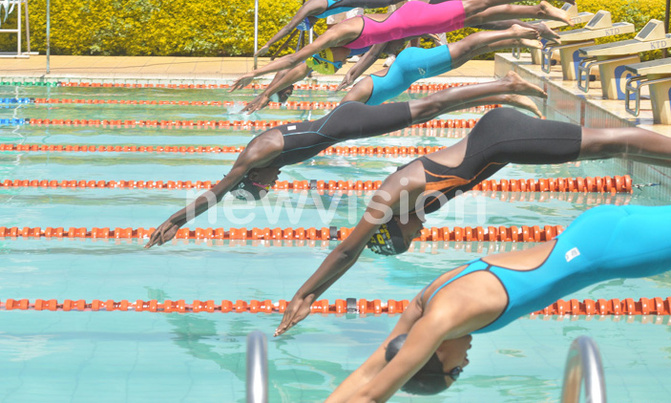 Seals Club's Ssinzi Nabatanzi finished third overall with 17 pts
The Dolphins-Kampala men's team led the way, inspiring their side to a third place finish, as the Kenya Swimming Federation National Age Groups Open and relays-long course championships ended at the Kasarani Aquatic Center in Nairobi on Sunday.

Abba Mayanja, 11, stood out for them collecting 34 points to win the best individual swimmer accolade in the boys 10-11 years category, where team mate Tendo Kaumi finished second overall on 28 points, ahead of Mombasa Aquatics' Ivan Hart (10pts).
The Dolphins swimmers pose with their trophy and medals
Kevin Rugaaju and Arthur Tayebwa finished in 7th and 8th position with a combined 5 points in the same category where another Ugandan Christian Musenze of the Seals managed a point.

Mayanja won the 100m butterfly in 1:23.13 beating Hart by 57 seconds and team mate Tendo Kaumi by 40 seconds (2:56.65) in the 200m Individual Medley.

It was tough in the 12-13 years category but Dolphins' Ben Kaganda (13pts) managed to finish third overall behind Thomas Tabuka (34pts) of Nyari Primary School and Jono Opande (22pts) of Braeburn-Kisumu. Darren Ssamula was also good for seven points in this category.

Tabuka and Opande dominated events in this category exchanging win in the 50m fly and freestyle races. Tabuka edged Opande in the 50m fly by 2 micro seconds before the latter retaliated in the 50m freestyle where he won by 24 micro seconds in a time of 27.37. Kaganda posted 28.30 in the same race.
Dolphins' Kirabo Namutebi in action in the 200m IM race
The Dolphins girls' team that normally dominates this meet was short on numbers this time, but Swagia Mubiru in the 10-11 and Kirabo Namutebi in the 12-13 categories, put up impressive displays collecting 24 and 34 points respectively to finish second overall in both categories behind Gakenia Mwige of Mombasa Aquatics and Sanford Natalie of Mis Pirahnas) respectively.

Seals Club's Ssinzi Nabatanzi finished third overall with 17 pts.

"My aim is to win the USPA swimmer of the year again. If I can win it for three consecutive years, that will be fine; I will then feel like ready to compete at the World Championship," Namutebi said.

For Mayanja who won 11 medals, it is all about continuous improvement. "I want to continue improving my times in all strokes and I know I will win more because I'm working hard," Mayanja stated.

Coach Muzafar Muwanguzi was also impressed with the standard of his swimmers at the annual championship that attracted 27 clubs.
Seals' Daya Yalonda Mpeera picked four medals from the Kenyan Championship
"The event was okay despite some of our swimmers not being able to travel because of other commitments; but the quality of swimming and times made were more meaningful compared to past years, there was an improvement across," Muwanguzi noted.

Bus-Car made the Dolphins swimmers and officials comfortable throughout the 12-hour road journey to and from Nairobi.
Dolphins' Samora Byansi in action in the 100m breaststroke race
Combined team scores
1- Bandari Swim Club 1058pts
2 -Mombasa Aquatics 613pts
3 - Dolphins - Kampala 596pts
10-11 Men Individual scores
1-Abba Mayanja (Dolphins) 34pts
2-Tendo Kaumi (Dolphins) 28pts
3-Ivan Hart (Mombasa Aquatics) 10pts
12-13 Men
1-Thomas Tabuka (Nyari) 34pts
2-Jono Opande (Braeburn KSM) 22pts
3-Ben Kaganda (Dolphins) 13pts
14-15
1-Muhammad Khandwalla (Bandari) 37pts
2-Rosafio Danilo (Bandari) 36pts
3-Tendo Mukalazi (Dolphins) 17pts
10-11 Women Individual scores
1-Gakenia Mwige (Mombasa Aquatics) 35pts
2-Swagia Mubiru (Dolphins) 24pts
3-Regina Gichovi (Loreto Convent) 17pts
12-13
1-Sanford Natalie (Mis Pirahnas) 39pts
2-Kirabo Namutebi (Dolphins) 34pts
3-Ssinzi Nabatanzi (Seals) 17pts

Dolphins Medal Count
Gold Silver Bronze
Abba Mayanja 4 3 2
Kirabo Namutebi 5 1 3
Tendo Kaumi 4 1 0
Ben Kaganda 0 1 4
Swagia Mubiru 3 1 2
Hannat Nakimuli 0 0 1
Tendo Mukalazi 0 2 4
Darren Ssamula 1 0 0
Ssuubi Byansi 0 0 1
Kevin Rugaaju 0 0 1
Relays 2 1 4
Seals Medal Count
Ssinzi Nabatanzi 1 2 2
Daya Yalonda Mpeera 0 1 3