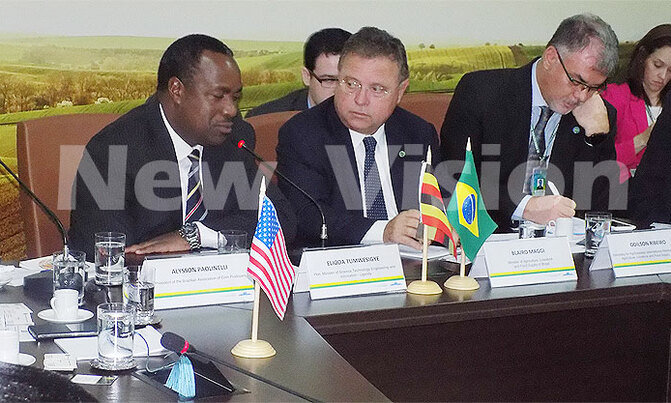 The minister and a team of Ugandan MPs are in Brazil to learn how the country has used modern biotechnology to increase agricultural productivity.
PIC: Minister Elioda Tumwesigye (far-left) met Brazilian minister Blairo Maggi (2nd from left) in Brasilia. (Credit: Christopher Bendana)

BRASILIA - Dr. Elioda Tumwesigye, the minister for science, technology and innovation, wants agriculture exchange programmes between Brazil and Uganda.

Meeting Blairo Maggi, the Brazilian minister of agriculture, livestock and animal supply at his office in Brasilia on Wednesday, Tumwesigye suggested having an exchange programme between Ugandan and Brazilian scientists and farmers to increase agricultural knowledge flow between the countries.

He and a team of Ugandan MPs are in Brazil to learn how the country has used modern biotechnology to increase agricultural productivity.

Modern biotechnology, also referred to as genetic engineering, is a process where a gene in a species has been intentionally altered to perform a necessary function.

The technology is being used by scientists to breed pest and disease-resistant crops, to enhance their nutrition value and breed crops that can tolerate weather vagaries.

Brazil has the second largest acreage of biotech crops in the world. It had 45 million hectares in 2015 under biotech, according to International Service for the Acquisition of Agro-Biotech Application (ISAAA), just below the US with 71 million hectares.

It already has 108 commercialized biotech products that include crops, vaccines and micro-organisms, according to Eliane Kay, the executive director of AgroBio Brasil.

Its main biotech crops include soybean and maize. Ninety-four per cent (94%) of soybean produced is genetically modified as is 84% of the maize.

Agriculture accounts for half of Brazil's exports and the Latin American country is the ninth largest economy in the world. It is the leading producer of coffee, sugar, chicken and orange juice.

On his part, Minister Maggi said traditional and modern technologies like genetic engineering are complementary and should go hand in hand, revealing that some farmers in Brazil are still in the traditional methods.

Ugandan scientists working at national institutions are using genetic engineering to breed crops that are resistant to pest and disease. Others have had their nutrition value enhanced.

The main programmes are on bananas, cassava, maize, Irish potatoes and rice. Breeders at the National Agricultural Research Laboratories Kawanda have already bred a banana resistant to banana bacteria wilt using genetic engineering.

Their colleagues at Kachwekano Zonal Agricultural Research and Development Institute (KaZARDI) in Kabale district have also bred an Irish potato resistant to late blight disease.

The National Crops Resources Research Institute at Namulonge is also at the advanced stage of breeding against cassava brown streak disease.

All their research is stuck due to lack of an enabling law. The National Biotechnology and Biosafety Bill 2012 meant to regulate the research and enable activities like outside research institute testing is still under consideration in Parliament.

Tumwesigye and the MPs also visited AgroBio Brasil where Eliane briefed them on the biotechnology legislation history that also included critics just like in Uganda.

Like Brazil, the breeding in Uganda is mainly against pests and diseases.