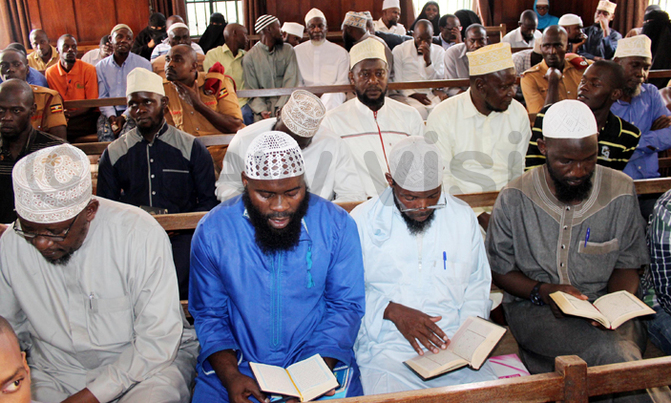 The state produced a total of 36 witnesses
The Director of Public Prosecutions (DPP) produced a total of 36 witnesses who testified in the trial of Muslim cleric Sheikh Yunus Kamoga, who is accused of terrorism.
On Tuesday, principal state attorney Lino Anguzu, the lead prosecutor at the trial of Kamoga and his 13 co-accused, stated that prosecution had closed its case.
The last prosecution witness, senior cop Fulgence Byamugisha, testified for two days; Monday and Tuesday.
Court is on March 13, scheduled to hear submissions on 'no case to answer' and 'case to answer' from defence lawyers and prosecution, respectively.
Charges
The indictment report shows that the 14 accused are battling four counts. Count one is of Terrorism, which is outlawed under Section 7 of the Anti-Terrorism Act.
For terrorism, it is alleged that between December 2013 and June 2015, in Kampala and Wakiso, the accused attempted or attacked Prince Kassim Nakibinge, Mahmoud Kibaate, Najib Ssonko, Bahiga, Kirya, Swidiq Ndaula, and Haruna Jjemba.
Count two and three are for murder, which is prohibited under Section 188 and 189 of Uganda's Penal Code Act (PCA).
For count two, it is alleged that on December 28, 2014, the accused, with others still at large, conspired premeditatedly to murder Sheikh Mustafa Bahiga at Bwebajja, Wakiso district.
For count three, it is purported that on June 30, 2015, Kirya was murdered at Bweyogerere Trading Centre in Wakiso.
Count four is attempted murder, prohibited under Section 204 of PCA. It is alleged that the accused attempted to assassinate Sheikh Jjemba on January 3, 2015 at his home in Watuba, Matugga, Wakiso district.
The accused are; Sheikh Siraje Kawooya, Sheikh Muhammad Yunus Kamoga, Sheikh Murta Mudde Bukenya, Sheikh Fahad Kalungi, Amir Kinene, Hakim Kinene Muswaswa, Yusuf Kakande, Sheikh Abdulsalam Sekayanja, Abdulhamid Mubiru Sematimba, Hamza Kasirye, Twaha Ssekitto, Rashid Jjingo, Musa Issa Mubiru, and George William Iga