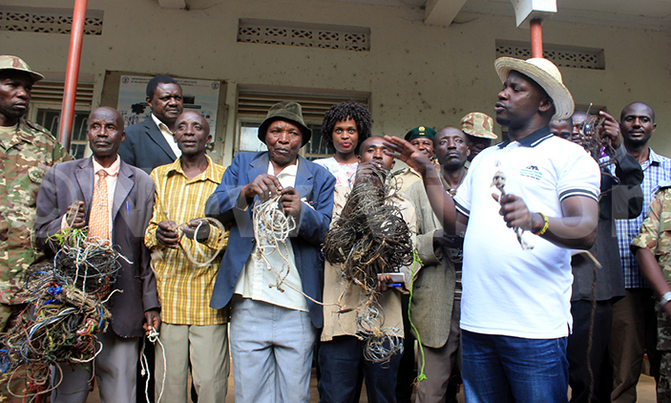 In a related occurence, a total of 132 poachers have reformed and embarked on onion farming, poultry and livestock for a living
As poachers get international connections, Uganda Police and Uganda Wildlife Authority (UWA) are embarking on a concerted effort to halt them in their tracks. Bengal Kromah, from Guinea Bissau, jumped bail until he was nabbed again in Najanankumbi after fleeing and returning secretly.

This time round he was nabbed with two others namely; Mohamed Kromah and Moazu Kromah were they had their stock of ivory. Two other suspects are on the run after fleeing arrest.

"The suspects had the tools they use for cutting ivory," confirmed UWA spokesperson Gessa Simplicious. "The ivory that has left hundres of elephants dead from DR of Congo and Burundi."

In a related occurence, a total of 132 poachers have reformed and embarked on onion farming, poultry and livestock for a living. They surrendered hundreds of their lethal gear to the minister of state for tourism Godfrey Kiwanda.
"This is after hunting became very unpredictable and dangerous," recounted their leader Robert Kakuru. "We would take 20-60 days without a catch of an antelope, bush buck or buffalo."

"A kilogram is sh3000 and one has to sell it stealthily or risk arrest from the law keepers."

Another reformer Kyabokibingo said after his colleague was crippled while being chased by rangers he realized the dangers of his trade.

"If I lost my life who care for my family. We have formed Mpungu Sub County Reformed Association (MSCA) of retired poachers with a goal of making straight money," said Kyabokibingo. "The spears, poison and traps are no more. We have realized that the animals matter to the park and our community - when alive."

One of the wives danced herself lame while celebrating the turning point in her husband's life.

"I expected to be widowed whenever my husband went to check on his catch in the Park," recounted Janet Kakuru. "I wondered how I would treat, dress and educate our four children alone."

A tour of communities living in the park was a revelation of the roads being maintained, hospitals and schools are better equipped with resources from tourism. Uganda Wildlife Authority (UWA) conservation area manager Pontious Ezuma said some of the snares are dangerous to human if step on.

The surrender of tools comes on the heels of UWA coordinating with other security organs to arrest nine dealers in rhino horns, ivory and skins.

"Among them is a Mali dealer called Gakou Fodie who was heading the illegal trade," said Gessa Simplicious. "The eight counterparts are from Uganda and Tanzania."

Minister of state for tourism Godfrey Kiwanda urged more active poachers to follow suit and go legitimate. Urging them to become; tour guides, rangers, tour drivers or waiters.

"It will be a shame if we render elephants and rhinos extinct," lamented Kiwanda. "We owe them this natural heritage. Besides that the resources got from tourism are making everybody's life better financially and socially."

Adding that, tourism has transformed the lives of communities living in Bwindi for the better since gorilla tracking begun in 1994. They are tourism flagship of Uganda.

"Bwindi has four tracking trail heads with nine habituated groups," said Kiwanda. "Every tourist coming to see the gorillas alive leaves behind more than sh2m for the sixty minutes they spend with them in the wilderness."

Adding that the things taken for granted are what tourists treasure in this country.