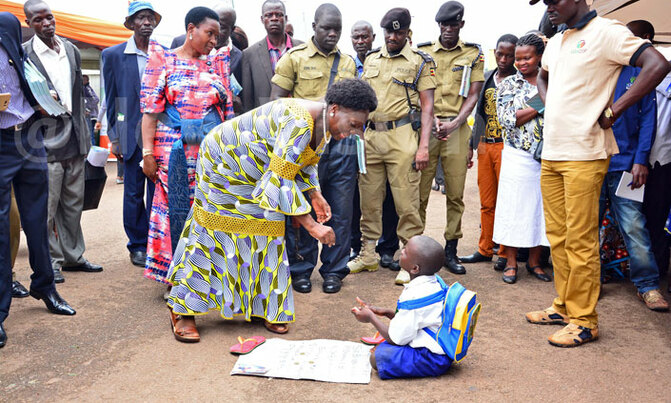 Speaker Rebecca Kadaga and primary education state minister Rosemary Sseninde made cash contributions to the boy
The Speaker of Parliament, Rebecca Kadaga, gave a cash contribution to a boy she found at Namboole Stadium, Wakiso district during the Harvest Money Expo on Saturday.
Kadaga was accompanied by primary education state minister, who is also Wakiso district Woman MP, Rosemary Sseninde.
The pictures:
Kadaga and Sseninde found the boy who is a person with disabilty seated on the ground.
They greeted him
Sseninde takes a closer look at the boy
The Speaker joins her as they talk to the boy. They later move on to different stalls at the expo.
When they return, they find the boy with a written document appealing for school fees. Their hearts are touched and they look into their handbags
Sseninde takes the lead as Kadaga checks if she has money
The boys receives the money with a beaming smile
Kadaga manages to get loose money in her handbag
She hands the money to the boy
Kadaga is as excited as the boy after handing over the money to him
... A rich harvest for the boy at the Harvest Money Expo