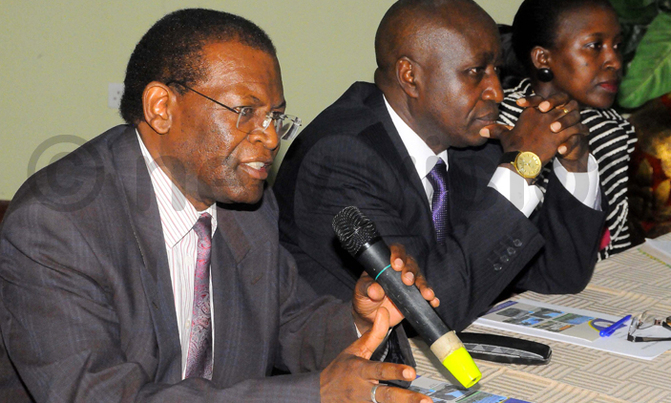 Farmers were urged to take the weather forecast seriously so that planing is well done
The Meteorological Authority has urged Ugandans to adhere to the weather focus to be released on Friday enable them plan better as the rains begin in March.
The executive director of Meteorological Authority, Festus Luboyera, has said that the country is expected to have rains in the month of March.
He urged the public to take the weather forecast seriously so that farmers plan well adding that many times when this information is released some of the farmers do not make use of it and end up blaming government.
Luboyera made the remarks during a meteorological workshop organized by World Vison in partnership African Climate Change Resilience Alliance (ACCRA).
"We need to resilience for people to adhere and find solutions to fight climate change which has affected our country" said Luboyera.
He said that the issue of climate change must be taken seriously pointing out that the Kenyan government has already declared the need for international support.
"New Vision on Wednesday reported that 1.6m people in Uganda are in need of food relief. The population without food had increased from 17 % in July last to 31 % in January 2017" he said.
Luboyera explained that they have finalized the weather predictions for the next three months with more rains expected in the month of March compared to last year. He said they have collected information regarding the weather to be disseminated in the first 35 languages to enable farmers to grow more food.
The African Climate Change Resilience Alliance (ACCRA) Data centre manager Godfrey Mujuni said Uganda performed well in the past weather forecast for September to December. He said that Western Uganda and West Nile region received enough rainfall. Arua received 400mm compared to the normal 600mm annually.
Senior Meteorologist in the Directorate of Meteorology, Ministry of Water and Environment, James Bataze, said that during the recent 45th climate conference in Ethiopia, it was observed that the Africa is saturated with topographic features and inland bodies which will contribute to more rains than normal.
He said that Eastern region will receive less rainfall than normal.
Western Uganda shall receive rain fall from late February up to May and the Central region will have a relaxation in mid-June.
"Effective from March to May the areas of Arua to Kabale region will have above chances of normal rain. Most of Eastern will receive normal. Areas of Karamoja and other parts will receive below normal rain and other parts" he said.
He added that the country has been affected so much by the dry season. The onset of seasonal rainfall is expected in March and the peak is expected early April throughout May. The secession is expected is in June and overall this region is expected to receiving normal rainfall.
In the districts of North East is expected to receive rainfall with thunderstorms and hailstones.