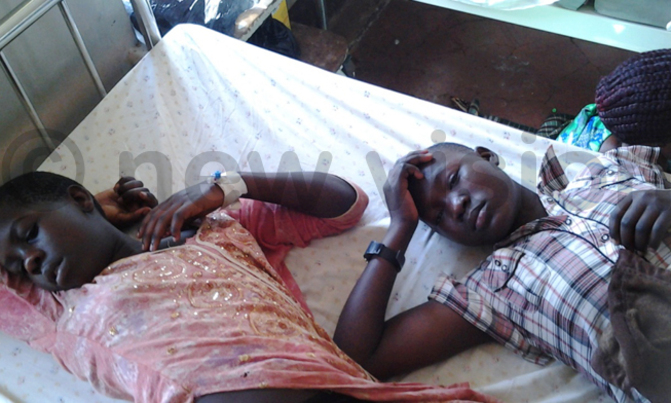 The condition of 18 of the pupils worsened and they were rushed to Jinja Regional Referral Hospital in critical condition
At least 50 pupils of Kangulumira Church of Uganda Primary School in Kangulumira sub-county, Kayunga district have been admitted at various hospitals after they allegedly ate poisonous food.
It is said that the pupils developed stomach complications and began vomiting along with having running stomachs.
The pupils after having their supper on Wednesday evening began crying endlessly as they complained to their matron of the painful experience.
As a result, the matron barred them from drinking water.
The 50 were shortly thereafter rushed to Kangulumira Health Centre III where they were all admitted and put on water drips.
However, the condition of 18 of the pupils worsened and they were on Thursday morning rushed to Jinja Regional Referral Hospital in critical condition.
The girls were admitted in Ward 3 while the boys in Ward 2.
Of the 18 pupils, 16 were from primary seven while the rest were of primary six.
A female teacher who preferred anonymity said blood samples were taken from the pupils as early as 9AM but by 7PM they had not yet received results.
"We brought our children while in critical condition and blood samples were taken in the morning but we have not yet received the results, we can't confirm it was poison" said the teacher.
Patrick Munaabi, 15, of primary seven said a woman, only identified as Yaki came along with a saucepan containing beans at the time he was serving his colleagues.
Yaki claimed that she had been sent by the school cook, known as Kabaya to bring the beans and mix them with what Munaabi was serving which he adhered to.
He said the students who were served earlier were not affected apart from those who were served last.
According to Esther Nantale, another victim, the woman bragged that the beans were very delicious unlike the ones they were already eating.
As a result, she told them to pour away what they had been served and consume what she had brought.
Sharifa Namuyomba, 13, said the woman frequents their school because her home borders the school.
"We occasionally see her interacting with our cook at the school compound" Namuyomba said.
Meanwhile Sylvia Namuwaya, Munaabi parent expressed fear that her son had not vomited or suffered a running stomach yet he was still feeling stomach pain.
Kalisa Kalangwa, the Kayunga district NRM chairperson said he improvised transport means to take the pupils to hospital.
Kalangwa told journalists that this could have been a planned move to frustrate the school because it is one of the best performing UPE schools in Kangulumira sub-county.
He said three suspects including Yaki and the cook had been arrested.
Efforts to get a comment from the Kayunga District Police Commander were futile.