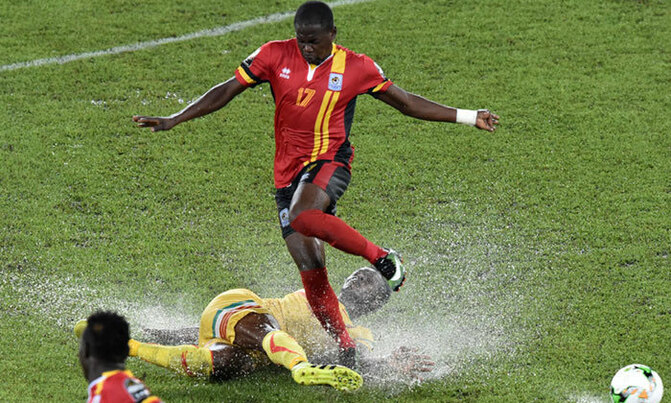 The Oyem stadium where Uganda played their last game against Mali defied all footballing standards, turning the game into a splashing galore.
The curtain is drawn. The Africa Cup of Nations (AFCON), our continent's premier soccer competition, has come to a close.

It was a most dramatic showpiece in which a less fancied, youthful Indomitable Lions of Cameroon snatched the soccer trophy out of the crowns of the more experienced Egyptian Pharaohs.
But in a competition that brought 16 different nations and cultures together, surely there had to be more than one winner.

The AFCON TROPHY for the most promising team.

Forget Asamoah Gyan stunts; forget Isaac Isinde's naiveté that handed Ghana's Black Stars - Uganda's first opponents - a penalty and a goal on a silver platter. Uganda's national side 'The Cranes' made an impressive account of themselves. They are our winners for the AFCON trophy for the most promising team.

Having been absent from the AFCON scene for nearly 40 years, they held their own against Africa's best teams, holding eventual finalists Egypt to a near goalless draw (until the 88th minute) and securing a crucial point against Mali. If any team left the AFCON with their heads high, it was the Uganda Cranes.
The Cranes' closest rivals, Ghana's Black Stars, won the AFCON TROPHY for most dramatic goal celebrations. Led by their team captain Asamoah Gyan (who limped off early in the tournament), these Ghanaians have a way - not with the ball, but with their waists, legs and hands (same can be said of DR Congo's team).

We loved their goal celebration that involved running to their opponents' goal touchline, torsos elevated, one hand stretched out and the other holding onto the crotch - hopping, wiggling, gyrating, thrusting their bodies forward in one naughty cocoon, laughing and mocking their beaten opponents.
What the Black Stars lacked in big wins in the tournament they made up for in their fascinating goal celebrations.

There were more colourful players at this tournament than the Ghanaians - people who wowed us with their individual style. Indeed, one or two players deserved recognition for their wild hairstyles.

But none was as outstanding as Gabon's Pierre Emerick Aubameyang - our winner of the AFCON TROPHY for most outrageous hairstyle.
In what looked like a compromise between a fluffy horse's mane and a bad barber's job, this Germany-based (Borussia Dortmund, to be precise) gem of a striker may not have won many games, but surely did win some attention for his style.
With his crazy hair, Aubameyang rewrote that crude old soccer adage 'Miss the ball, don't miss the leg' to something like 'Miss the goals, don't miss the show'.

There was a particularly forlorn show that should not have gone unrewarded; and who best to get this than Ghana's coach Avram Grant.

Win or lose, this Israeli tactician had an uncanny way of tucking himself on the edges of the bench, lean heavily on the pole, his droopy face weighing down the palm of his hands.
When things heated up on the pitch, he would sometimes stand by the touchline, his left thumb stuck in his mouth, face pensively fixed on the centerline as if plotting a killer move. Win or lose Avram grant sported a worryingly worried look on his face and for that he won the AFCON TROPHY for most dejected coach.

There were equally dejecting moments at this year's tournament: such as watching your team bow out of the tournament in a swampy excuse of a pitch. SPLASH!

The Oyem stadium where Uganda played their last game against Mali defied all footballing standards, turning the game into a splashing galore, where players often ran ahead of the ball.
Even though most pitches in Gabon rivaled rice fields, Oyem's ground was in a league of its own, and for this, it wins the AFCON TROPHY for the worst pitch.

What of the AFCON trophy for the most dramatic fans? Mali made a good account of themselves on this one. Presenting pot-bellied, bare-chested, colourfully dressed men and women. Perhaps closely rivaled by the Congolese.

The Congolese beat everyone hands down with their glittery red and blue jersey - ever the colourful characters of Africa. So they took our AFCON Trophy for best dressed team.
And there it went. Something for everybody.

If you looked close enough, there was a trophy for each of the 16 participants in this much coveted tournament.


ALSO RELATED TO THIS STORY

Cameroon are crowned AFCON 2017 champions

Avram Grant resigns as Ghana manager

Uganda bow out with draw against Mali

Uganda fall to Egypt to exit tournament

Uganda lose opener to Ghana

Fans in Gabon kept Cranes spirit alive