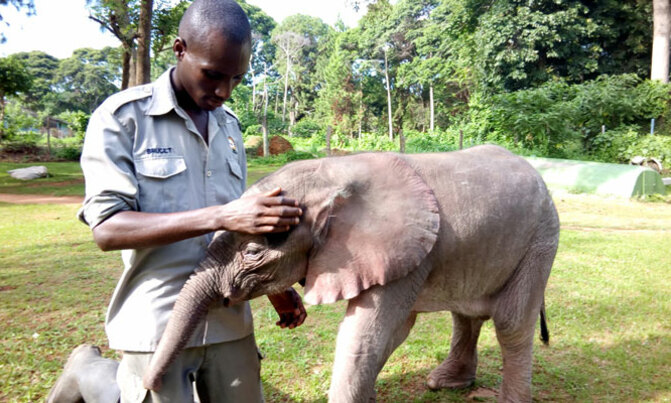 "It is very vibrant and already knows the room where it lives.After an evening walk, it can find its way without being guided."
A caretaker with baby Hamukungu
Another baby elephant was salvaged from mud after failing to navigate through mud and was abandoned by the heard in Queen Elizabeth National Park. Uganda Wildlife Education Centre (UWEC) spokesperson Isaac Mujasi says it has been feeding on five litres of SMA milk mixed with dairy milk.
"It is very vibrant and already knows the room where it lives," says Mujaasi. "After an evening walk, it can find its way there without being guided. This comes four years after another one, Charles Hamukungu, was saved by rangers in the park."
Dr. Ahmed Katerega says such animals are always put on diet and treated for any ailment that is identified.
"The lad is active and very healthy," said Dr. Kateregga. "He gulps 10 litres of milk per day."
And animal keeper Robert Olupot takes the toddler named Edward Hamukungu for a 2km walk every day. This excercise enables it to digest the milk and remain active
This time round, it was spotted by Allison Kwikiriza, a volunteer who called Uganda Wildlife Authority (UWA.) During a tour of Mburo National Park during the ongoing Tulambule promotion, it was observed that elephants are missed there.
"We have had to work with the communities in the park to get rid of the Acacia trees that repel other animals," said UWA spokesperson Simplicious Gessa. "Following their extinction in the park, the vegetation goes out of control, which drives the other animals away."
Elephants are tourists attractions commonly found in Queen Elizabeth National Park, Kidepo National Park and Murchison Falls national Park. Ivory and rhino horns are on high demand by poachers who trade it to markets in Asia.
Minister of state for tourism urged the rangers and communities to jealously protect the mammals.
"How will you tell your children that we once had elephants, but hunted them down to extinction because of their ivory," lamented Kiwanda. "This happened to the rhino, which we are battling to reintroduce."
Minister Kiwanda said nature based tourism is what makes Uganda attractive to the growing number of tourists coming to Uganda.