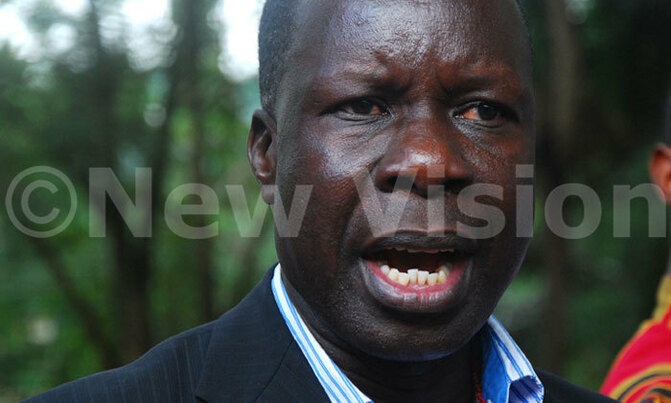 "All candidates are meritorious with vast experience in various fields."
The National Resistance Movement (NRM) electoral commission chairman, Dr. Tanga Odoi (pictured) has refuted media reports that the party had selected candidates to represent them at the East African Legislative Assembly (EALA).

"We have no special candidates for EALA seats. All our candidates stand equal chance to take up these seats."

He made these remarks while addressing the media on EALA updates at the NRM party headquarters in Kampala.

Odoi also denied allegations that President Yoweri Museveni had appointed candidates to represent the party for the EALA slots.

"All candidates are meritorious with vast experience in various fields. They will be appointed after lobbying and campaigning for these positions. The president has not appointed any for the EALA seats."

As many as 38 candidates had picked nomination forms from the NRM secretariat on Monday and only had returned them before deadline which was Tuesday.

Odoi said the final names will be given by the party Central Executive Committee (CEC) headed by President Museveni who doubles as the party chairman.

"The appointment of the party representatives for EALA will be determined by CEC whom we expect to seat on Thursday in Entebbe. The names will then be presented to parliament before 9th February," he said.

Candidates speak out

Henry Banyezaki, the state minister for economic monitoring in the Office of the President is vying for an EALA seat. He told New Vision that he will fight dumping of secondhand products in East Africa region.

He also vowed to advocate for free boundary movement among nationals of the member states to promote trade, unity and tourism.

Lilian Aber, the National Youth Council (NYC) chairperson, promised to advocate for same fees structure for all East African students in any of the member states.

"Why should a Ugandan student be treated as a foreigner in Kenya or anywhere in East Africa yet we have regional treaties? I will advocate for same dues while at school since we are all East Africans," she said.

Mary Sendi, who was a candidate in the Busiro East parliamentary race in the 2016 general elections, promised to advocate for improvement on agriculture and sensitization on HIV/AIDs among East Africans.

The state minister for youth and children affairs Florence Nakiwala Kiyingi, backing Aber, proposed that EALA legislators should advocate for youth seats in the regional parliament.

"EALA members of parliament should ensure that youths are officially represented and all member states will be able to present youths."