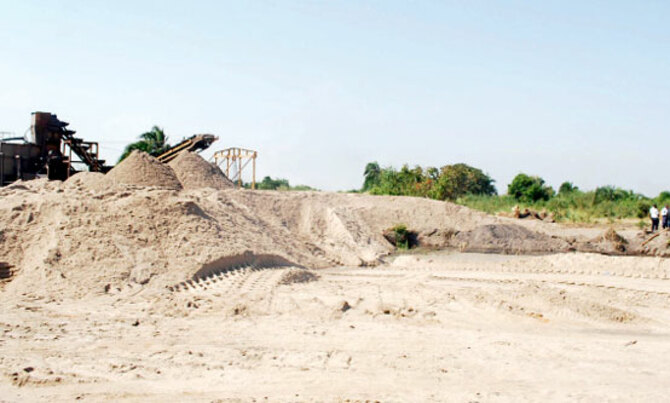 In a move aimed at saving wetlands NEMA has instituted tough measures against sand mining and all mining companies have been cautioned
In 10 years to come or less, boreholes, shallow wells and spring wells near Lwera wetland in central Uganda are likely to dry up if the current destruction in the wetland due to sand mining is not checked.
According to the National Environmental Management Authority (NEMA), sand miners have dug up the wetland leaving behind huge deep pits.
The pits if not restored would cause the groundwater table to drop leaving the drinking water wells on the embankments of these areas dry.
Lwera wetland, which also plays an integral role to the ecosystem of Lake Victoria, is now a scene of gullies and depressions after destructive and extensive sand mining. Some pits are as wide as football pitches.
These have led to loss of vegetation cover and the resultant effects such as soil erosion, siltation and water pollution. They are also a danger to wetland users, who may drown in them.
Lwera wetland is located in the districts of Mpigi and Kalungu on the shoreline of Lake Victoria. Naome Karekaho, the NEMA spokesperson says miners in Lwera have come up with new mining technology which needs to be assessed before it could be allowed to continue being used.
Previously sand miners used local tools, such as, hand hoes and spades, which were easy to regulate. However, more sophisticated technology has been brought by the new entrants.
"We need sand, but we must mine it sustainably. Technology is needed, but at the moment it is being used without proper assessment and has turned out to be destructive. We are developing guidelines before allowing some of this technology," Karekaho says.
The technology that needs serious assessment is the use of dredgers, equipment used to excarvate sub merged sand. Some dredgers are discouraged at the moment because they dig deep beyond the recommended maximum depth of four metres.
"When pits are too deep it becomes too hard to refill them," Jerome Lugumira, the natural resources manager at NEMA, says. CLICK HERE FOR MORE
ADVERT