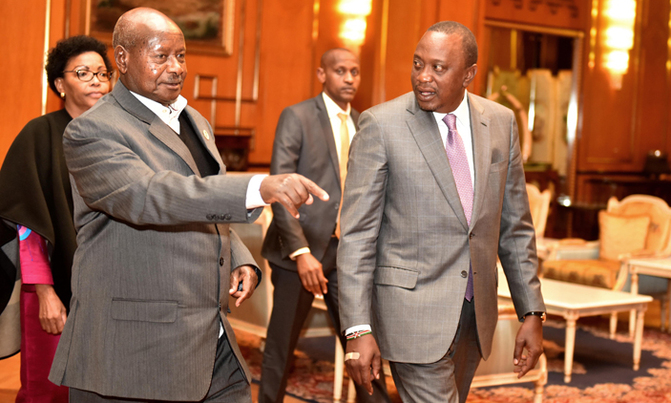 Uganda is fronting Dr. Warren Naamara for the post of Commissioner Social Affairs at the AU
President Yoweri Museveni meets Kenyan counterpart Uhuru Kenyatta on Sunday. PPU Photo
President Yoweri Museveni has held a series of bilateral talks with African leaders at the sidelines of the ongoing 28thOrdinary AU Heads of state and government leaders summit at the AU headquarters in Addis Ababa.
He rallied leaders for a stronger joint effort to end the LRA operations in CAR, pushing for dialogue in Burundi and a peaceful resolution of the conflict in South Sudan, Somalia and the DR Congo.
Despite his busy schedule that often starts at 8am and ends past midnight each day, Museveni used the opportunity to introduce Uganda's candidates at various international platforms to heads of State that he met including the President of Equatorial New Guinea Theodore Nguema Obiang and President Uhuru Kenyatta of Kenya.
Uganda is fronting Dr. Warren Naamara, currently UNAIDS Resident Representative in Tanzania for the post of Commissioner Social Affairs at the AU.
Uganda has also submitted Justice Solome Balungi Bossa as its candidate for the post of judge of the International Criminal Court (ICC) whose elections will be held in December 2017.
Justice Bossa's name was submitted to the AU Commission for an early consideration to allow her adequate time to campaign.
Bossa is competing with two other candidates from Lesotho and Benin.