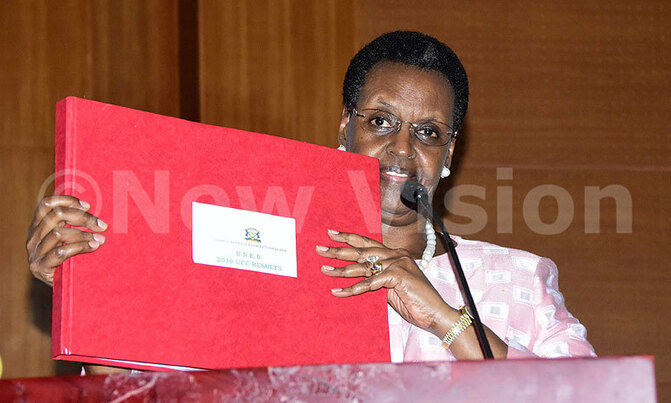 The results indicate that last year's failure rate of 13.2% was higher than the 9.7% of 2015.
PIC: First Lady and minister of education and sports Janet Museveni officially releases the 2016 UCE results at the Office of the Prime Minister building. (Credit: Maria Wamala)

Education and sports minister, Janet Museveni, on Tuesday released the 2016 Uganda Certificate of Examination (UCE) results that indicated a "slight" drop in overall performance.

This time round, the failure rate stood at 13.2% compared to 9.7% for 2015.

But overall, non-Universal Secondary Education (USE) students put up a better performance.

Although the girls had the edge in English Language, overall, the boys beat them.

Relatedly, UNEB executive secretary Daniel Nokrach Odongo said difficulties were reported in the use of correct spelling, tenses, grammar and punctuations in the writing of English compositions.


HAVE A LOOK: COMPARE 2016 WITH 2015

In 2016, Biology registered slight improvement, but that was not enough to make up for the lacklustre performance in other science subjects.

From what we have learnt from Odongo's remarks, science subjects continue to be performed poorly and part of the reason is that schools are theoretically teaching science disciplines, despite the ministry of education availing lab chemicals and equipment.

It's no better in English either. According to Odongo, students are cramming English passages as well as spotting questions.

1,893 candidates' results withheld

Meanwhile, while speaking shortly before the official release of the results, UNEB chairperson Prof. Mary Okwakol said that while last year's O' Level exams were conducted smoothly without leakages, the results of as many as 1,893 candidates have been withheld - until investigations are complete.

It is understood the candidates whose results have been held "will be given fair hearing" before a decision is made.

Those who kept away

Okwakol revealed that of the 323,276 candidates that registered, 316,624 sat the final exams, with more boys (2.2%) than girls (1.99%) absent.

But while more male candidates were absent, those who sat the exam performed better overall than their female counterparts, the results show.

As mentioned earlier, girls, however, beat the boys in English, which together with Mathematics and the sciences, were the worst-done subjects.

The statistics also indicate that more special needs students (366) sat the 2016 O' Level exams compared to the previous year's 325. The number of candidates behind bars in Luzira Prisons also rose by six - from 38 in 2015 to 44 last year.

Mocks take valuable time - Education minister

In her address moments before releasing the results, Minister Museveni said Mock exams, normally done in preparation for the final exams, take away valuable time that would have otherwise been used for teaching.

She also regretted the poor performance in science disciplines despite government's efforts into improving that area of study.

The minister will have been delighted to learn that fewer girls were absent compared to boys, and her emphasis was on continued investment in girls' education.

Still, she said more has to be done by stakeholders to curb absenteeism.

On special needs students and inmates

Minister Museveni, who is also the First Lady, said it was "refreshing" that the people behind Ugandan bars are availed the chance to advance their education.

Luzira prisons registered 47 candidates but 44 went on to sit the exams, five of whom were female. Overall, four passed in Division One while five were in Division Two.

The education minister made known her satisfaction with measures taken for learners with disability to be able to take their exams. Among others, 59 visually impaired student sat the 2016 exams, 17 better than the previous year's statistic.

According to Museveni, her ministry's greatest task now is to improve the quality of education to empower learners with skills needed in the job market.

She said it is regretable that instruction in schools is geared towards only passing of examinations.
HOW YOU CAN ACCESS YOUR RESULTS VIA SMS

Type UCE [leave a space] Index Number and send to 6600. Available on MTN, Airtel, Africell and UTL. Note that network charges apply.

While at it, note that, according to UNEB's Odongo, results of students who have not cleared their school fees will not be available on the SMS platform until they have settled their dues.
ALSO RELATED TO THIS STORY

2016 PLE: Boys beat girls, performance improves