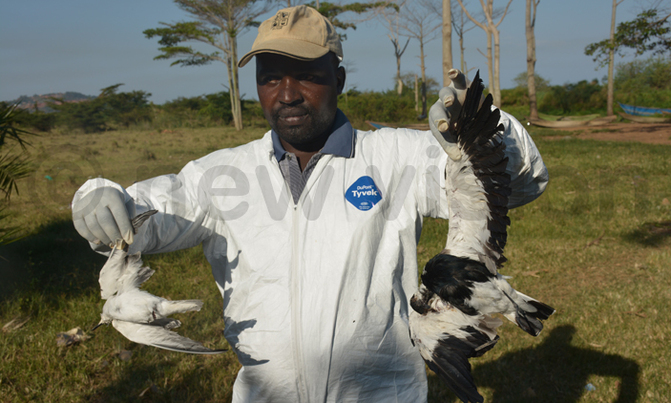 Slaughtering sick birds is one of the main ways how the bird flu passed from the birds to the human population
The strain of Avian Influenza that is behind the massive death of wild migratory birds along the shores of Lake Victoria is not as lethal as earlier thought.
According to Dr. Anthony Mbonye, Director Health Service (Clinical and Community Health), the strain of Avian Influenza also known as bird flu is H5N8 and not H5N1.
Mbonye stated that the Ministry of Health and the Ministry of Agriculture, Animal Industry and Fisheries had earlier confirmed the outbreak of bird flu and previously stated that it was H5N1.
"Laboratory results from the Uganda Virus Institute confirmed presence of H5N8 of Avian Influenza in all the samples collected, both domestic and wild migratory birds from Lutembe shores in Wakiso, and Bukakata in Masaka districts," stated Mbonye.
He added, "The H5N8 is a sub-type of Influenza A (called bird flu virus). H5N8 is considered as less pathogenic sub types for humans and no human cases have been confirmed in the past."
Mbonye warned the public to be alert and to report any likely transmission from wild birds to humans. He warned against handling dead birds or slaughtering sick birds pointing out that is one of the main ways how the bird flu caught pass from the birds to the human population.
The virus, according to Mbonye's statement does not survive at high temperatures and that poultry products should be thoroughly cooked. He also advised that if anybody gets a fever after slaughtering birds should report to health unit for further management of the condition.
Any sudden death of birds whether wild or domestic and suspicious signs among human beings should be reported to the district veterinary Officer and district health Officer and the village health team. Other signs are lack of coordination, discoloration of wattles, combs and legs, soft shelled eggs, lack of appetite, diarrhoea, swelling of the head and eyelids, according to Mbonye's statement.
As a team of experts works tirelessly to contain the disease, according to Mbonye, the farmers as well as tourists should stay calm. He also appealed to the public to report any suspected cases to the nearest health facility.
Three weeks ago, Christopher Kibazanga, the State Minister for Agriculture confirmed the outbreak of Avian Influenza in Uganda. He said migratory birds; the white winged black terns which migrate from Europe to escape winter could have come with the disease.
What is it?
Bird flu, is a contagious disease caused by a virus related to human influenza. Some strains of the disease have been passed to humans but this is very rare, and usually only occurs after very close contact with infected birds. While all bird species susceptible, domestic poultry are vulnerable to infection. Outbreaks can turn into epidemics among bird populations in short time.
Symptoms
According to Dr. Mbonye, the Director Health Service (Clinical and Community Health) said the disease has similar symptoms with the common flu and has an incubation period of three to four days and is accompanied by sneezing as well as coughing, high temperature, chest pain, difficulty in breathing, muscle aches but it does not spread through air.
The keepers of birds should watch out for symptoms such as swollen head, discoloration of the neck, throat and loss of appetite. Respiratory distress, diarrhoea and when birds lay fewer eggs, according a statement from the Ministry of Health.