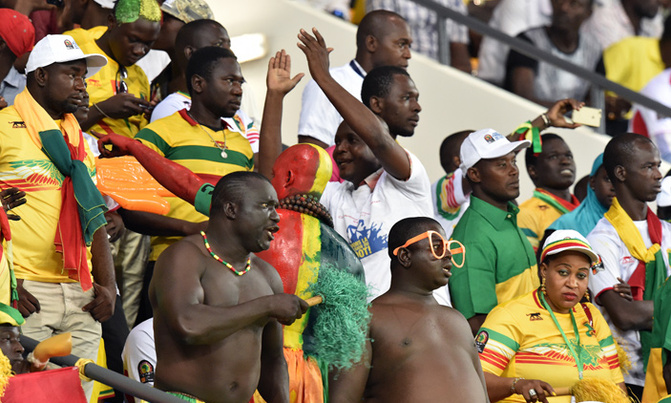 After a two-day break from football, the games will only resume on Saturday.
Considering that the Africa Nations Cup happens once every two years, you would prefer to enjoy the games every other day of its three-week duration.
But then again, that's not possible as players need to re-energize ahead of the crucial knockout stages.

As such, after a two-day break from football, the games will resume on Saturday.

However, the break has also allowed me time to reflect on some of the best moments of the past two weeks.

I'll look out for some of the best moments that have gotten fans' off their seats in the group stages of the Total Africa Cup of Nations. It might or might not be a complete guide to the tournament as a whole.

Best goal

Goals are what make tournaments. Goals are why fans storm stadia with hope of celebrating those moments that decide games.
Morocco's Rachid Alioui scored a beauty from 25 yards that dumped Ivory Coast from the championship.
Democratic Republic of the Congo's players celebrate their third goal during the 2017 Africa Cup of Nations group C football match between Togo and DR Congo in Port-Gentil on January 24, 2017.AFP PHOTO
And as good as that was, it is still some class below that spectacular goal from Guinea Bissau's Piqueti Djassi Brito Silva.
Piqueti picked the ball from deep within his own half after pouncing on a loose ball.

He run a considerable distance, leaving two Cameroonian players in his wake, before cutting outside another Cameroon defender and thumping into the top corner from 20-yards to give the underdogs an unlikely lead.

Best free-kick

This was as stunning as they can ever get. Henri Saivet's free-kick was so far outside that Zimbabwe could be forgiven for not thinking there was any danger to it. The Saint-Etienne central defensive midfielder smashed this so powerfully over 30 yards that it simply flew past the goalkeeper Tatenda Mukuruva.

Best game

I will go for Uganda Cranes 1-0 defeat to the Ghana Black Stars.
This was thrilling from start to finish. It was a game of two halves -the Black Stars dominating the first and Cranes dominating the second.
After a nervous first half on their first Nations Cup appearance since 1978, Cranes bounced back into the second half with a thrilling display of attacking football.
The atmosphere was electric and the standing ovation from the neutrals for the Cranes brought a tear to the eye.

Best moment in a game

DR Congo showed class while dispatching Togo in a 3-1 win as they secured top spot Group C on their way to the quarter-finals.
But the leopards also showed class in honoring Togo striker Emmanuel Adebayor with a guard of honour after the former Arsenal star called time on his top-level international career.
It was an emotional moment.

Best ground

Oyem stadium located in Assok Ngomo, 15 km from Oyem is all-inclusive (with a 28-room hotel, athletics track, three tennis courts and three basketball courts). But Port-Gentil is high up there. Not only does it capture the true African architecture, its interior is also magnificent. It is a marvel.

Junior Kabananga (DR Congo)

When DR Congo finished third two years ago, Yannick Bolasie was the man that run the show.
But with the Everton man out injured, and Villarreal star Cedric Bakambu firing blanks, they needed a leader to run the show.
Kabananga has since stepped forward with fine displays against Morocco and Ivory Coast. He already has two goals to his name.

Best team

At the start of the tournament, Ivory Coast was the obvious pick for the title, but the defending champions underperformed and have since been eliminated. Talent-wise, there are a host of teams just behind them such as Tunisia and Senegal.
But for me, the team of the tournament so far is the one that has played with verve, with passion, with a positive attitude. It is the team that has attacked and played the game with the right spirit and that is DR Congo.

Best supporters

This is very easy. The hosts Gabon were obviously very loud, but I've disqualified them for turning their backs on the tournament since their exit last Sunday. Mali and Cameroonian fans have not been far away but I will go with the DR Congo fans. They understand the true meaning of following a team and giving your best in the stands.

Best coach

No brainer this one. It has to be DR Congo coach Florent Ibenge. The transformation of DR Congo under his stewardship has been simply amazing. However, Herve Renard deserves a mention for his ability to inspire the Morocans.

Best city

As much as I loved Port-Gentil, it has to be Libreville. Perhaps the city buzzed because of hosting the host country's games. But the days at Libreville have been memorable. It is a beautiful city and one in which there was always something going on.