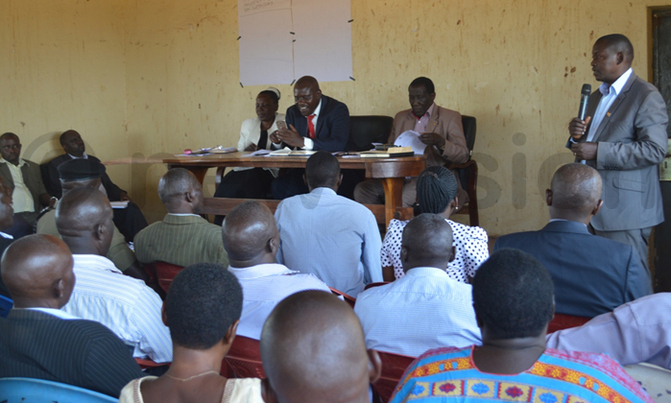 "Teachers need to love their profession and take it seriously"
Teachers in Buyende district shouldn't wait for government to build staff quarters for them, but think about or be forced to hire houses in the vicinity of their schools for academic excellence and better PLE results, the MP for Budiope East, Geoffrey Dhamuzungu, has advised.
Dhamuzungu who labelled a majority of the district teachers as incompetent, said for Government to construct staff quarters, it may take over twenty years, which entails teachers to embark on using their salaries to rent rooms near their schools if they want their jobs, else they should resign.
He explained that with the prevailing job scarcity, teachers need to love their profession and take it seriously.
Dhamuzungu made the recommendations at Buyende district headquarters on Monday, during the stakeholders' meeting that convened to establish why the district trailed in the 2016 PLE.
The jawmaker also advised the department to recall all teachers' CVs for scrutiny.
"The biggest percentage of them, including head teachers is so incompetent that they cannot sustain an English conversation for an hour" he said.
He narrated how he travelled with a head teacher in his car to Kampala, who "blacked out" at Buwenge, a thirty five minutes' drive from Buyende.
Chaired by the LC5 chairman, Robert Ziribasanga, the meeting meant for forging the way forward almost went rowdy as the stakeholders including the education officials, parents, head teachers and the school management committees pointed accusing fingers at each other.
Out of the 4,639 candidates who sat, only 57 got first grades, 1007 got second grades, 1001 third grades, 921 fourth grades, 1,463 were ungraded while 180 registered but never sat for the exams.
This is opposed to the 2015 results where Buyende got 108 first grades however, this year, 2,574 candidates are not eligible for secondary education.
The DEO, Dison Bwire attributed the failures to mushrooming private schools, the inspectorate's lack of transport, non-completion of the syllabus, the "passive" teachers and the parents' negative attitude and failure to facilitate their children with lunch, given the biting famine.
He pointed out that the teachers arrive late and leave early due to lack of accommodation however are so arrogant to heed to warnings about late coming and absenteeism.
Bwiire added that the teachers need refresher courses to be updated on new techniques in the process of shifting from the analogue to digital era.
He later laid out the strategies to overcome the challenges, before he called upon stakeholders for collective responsibility in order to secure more first grades.
The district woman MP, Veronica Babirye Kadogo faulted the District Service Commission for allowing the education department officials to work in acting capacity for six years.
"You cannot have an acting DEO for six years. He's working under cowardice, suspecting that he's to lose the job anytime" Kadogo said.
Dhamuzungu pledged MPs support to the sector in terms of logistics including finances, a cyclostyling machine for tests, solar panels to better performing schools, among others.