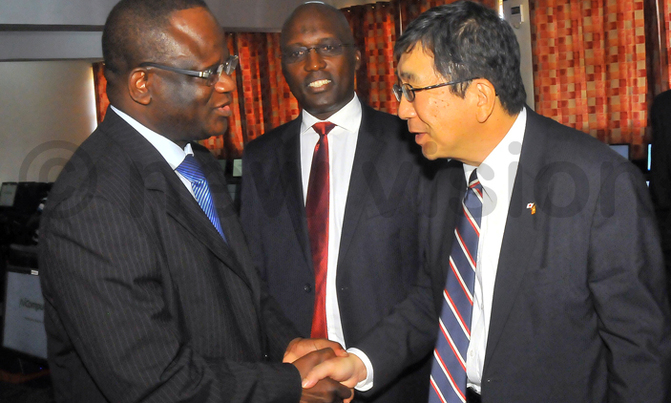 Most Ugandan scientists and researchers are ignorant about patenting
The Uganda Registration Service Bureau (URSB) is in the final stages of drafting a national Intellectual Property (IP) policy that will guide innovators and institutions, James Lubwama a senior patent examiner has revealed.
He said that the policy when finalized will help guide institutions on coming up with their own policies on IP which will create an enabling environment for scientists and researchers whose works are always under a threat.
He said that most Ugandan scientists and researchers are ignorant about patenting and this policy will enable them create awareness.
Lubwama was speaking during a training of trainers organized by URSB and World Intellectual Property Organisation (WIPO), to equip scientists and researchers on how to access free online patented high quality technologies and documents.
WIPO through its Technology and Innovation Support Centres (TISCs) is setting up free support centres in universities across the country. So far they have established TISCs in M Mbabara, Busitema and Kyambogo University. They have also done consultations with Gulu and Makerere University but stayed the project due to the prolonged strike.
Lubwama revealed that Private Universities such as Kampala International University (KIU), Uganda Christian University (UCU) and Ndejje have expressed interest to have the centres.
He stated that they are aiming at reinforcing the capacity of developing countries to participate on the global knowledge economy.
"We are providing access to up to date databases for them to read before coming up with innovations. People duplicate things from outside countries and since they are the first to do it in Uganda, they come out to seek for patent rights not knowing that a patent is given when an innovation is the first of its kind in the world," he said.
Lubwama said that through availing such information to the local innovators, the inventions will be improved and it will help avoid duplication of works of other innovators from outside countries.
The project is supported by the Japan Funds-in-Trust for Africa. According to the Japanese ambassador, Kazuaki Kameda, appropriate protection of Intellectual Property Rights in Africa will lead not only to encouraging investments in Africa by foreign countries, but also bringing out the distinctive potential of Africa and this will lead to driving sustainable economic growth.
"It is high time for African countries to both establish and improve intellectual property systems for promoting innovations and developing industries" he said.
Elangi Botoy Ituku, the project officer World Intellectual Property Organization (WIPO) said that once the training is done, scientists and researchers will have unlimited free access to over 70,000 databases of patented high quality technology information and documents.
They will also have access to90m technologies and patented scientific journals, technical resources and other IP-related publications.
"All one needs to do is to have a laptop and access to internet to tap into available quality researches worldwide unhindered," he said, adding that this information will bring technical solutions to new processes and methods to use to develop the economy.
He said that through their Technology Information Support Centre (TISC) project, they will be able to link innovators to Small and Medium Enterprises that operate in line with their innovations to get economic value for the products.
Ituku said that WIPO through has partnered with industrialized countries to provide free access to high quality patented resources to its low developed member states.
WIPO is a global forum for intellectual property, services, policy, information and cooperation and Uganda is a signatory.
Ituku said that they are catering for all expenses and using URSB as its focal point, they are setting up TISC centres in Universities across the country since they are the think tanks of society.
He stated that WIPO will facilitate access to data bases, provide training of trainers and local users, support awareness raising activities, provide distance learning courses and IP materials.